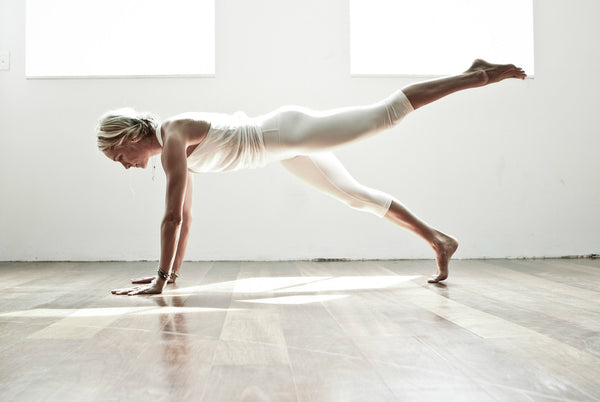 AUrate is built on giving back. Inspired by the one-for-one model of giving made famous by Tom's Shoes and Warby Parker, we designed A Book For Your Look to support a cause close to both our hearts.
Growing up in Morocco, Bouchra was aware of the country's many children living in poverty, who went without education and never learned to read. Sophie was raised in Holland, where practically everyone is ensured an education and illiteracy is virtually nonexistent. In other words, as founders, both of us realized the power of education, in the negative and the positive sense. With AUrate, we strive to help close the educational gap that unfortunately still exists, right here in the United States. So for every piece of jewelry you buy, we donate a book to a child in need. It's very concrete, factual giving.
The Movement
Sweat it out, clear your mind and support brain cancer research at this chic Flatiron fitness studio. Hybrid offerings combine intense cardio intervals, stretching and life-altering insights. Devotees get downright evangelical about the cathartic power of The Class, led by Taryn Tooney. One dollar per fee is donated to the National Brain Tumor Society, in honor of founder Jordan Caninos' late mother. 
32 West 18th Street.
themovementfitness.com
photo at top: Taryn Toomey, by Jaimie Baird
photo courtesy The Elephant Pants

The Elephant Pants
Slip into these soft, boho prints and help save elephants from ivory poachers. This eco-friendly line also includes rompers, sundresses and accessories, all perfect for the summer festival scene. In two years, the company has raised over $100,000 for the African Wildlife Foundation by donating ten percent of net profits. While you shop, learn about the AWF-funded Samburu National Reserve, and follow the antics of irresistible baby elephants on Instagram.
theelephantpants.com
photo by Nikki Ash
MAKE Beauty
Rich pigments and transformative finishes made this young brand a social media darling. But this company's beauty is more than skin deep. Ten percent of sales are donated to We See Beauty, an organization empowering under-served women to become entrepreneurs. By building worker-owned, sustainable businesses, local economies strengthen and women achieve financial independence.
makebeauty.com
photo courtesy Repeat Roses
Repeat Roses
In her former life as an event planner, Jennifer Grove hated to watch hundreds of fresh floral arrangements go to waste. Now as Founder and CEO of Repeat Roses, Grove offers brides, wedding planners and luxury venues a way to give flowers a second life. Arrangements are picked up and donated to nursing homes, hospitals and shelters, in the greater New York City area and beyond. Over seven million people have watched the joy this service brings, in a video on Upworthy. 
repeatroses.com
photo courtesy Chris Deschenes
Pedal Forward
Riding a bike can improve health, save money and reduce our carbon footprint. This set of wheels does even more. Built in Brooklyn, with sustainably sourced bamboo, these lightweight bicycles aim to address a heavy truth. Over 70% of the world's impoverished do not have reliable transportation. Pedal Forward creates jobs for the underemployed and reinvests a portion of profits toward providing basic transportation in developing regions.
pedalforward.com
photo courtesy by Courtney Apple
GIVESCENT
Inspired by the founders' travels to Italy and the Mediterranean, these evocative scents are summer in a bottle. You'll feel good about every spritz of citrus, mint and bergamot. Two dollars from the sale of every fragrance goes to causes like Women for Women Internationalan organization that helps female survivors of war attain self sufficiency.
givescent.com
photo courtesy Douglas Lyle Thompson 
Grand Banks
Dine on sustainable seafoobd as the sun sets over the Hudson River. This luxe oyster bar, built on NYC's largest wooden vessel, partners with the Maritime Foundation to generate funds for restoring health to New York Harbor, preserving historic fishing boats and protecting oyster habitats and other marine wildlife. Pier 25, Hudson River Park.
grandbanks.org
In our experience, when giving back is built into the business, every aspect of work feels more fulfilling. More and more entrepreneurs - here in New York and beyond - are making real change happen. We are so proud to part of this inspiring trend. If you know, or are part of, a company like this, drop us a line. We'd love to hear from you!