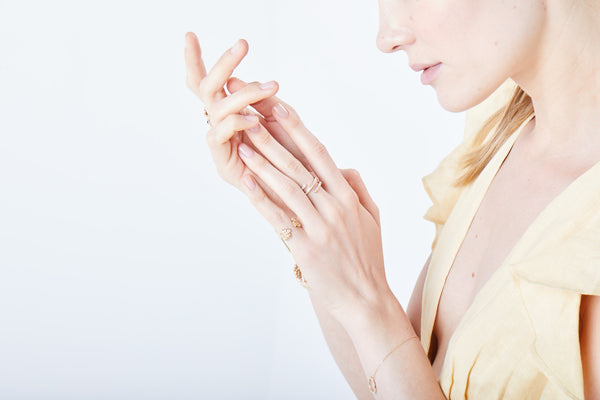 Label me golden
When we looked up the dictionary definition of "golden", results ranged from the description of a yellow color, to an internal state full of happiness and prosperity. This led us to question what we would call "golden" here at AUrate.
For each of our jewelry pieces, we pay meticulous attention to detail to meet our uncompromising standards. We intentionally craft our solid gold jewelry into minimalist designs to emphasize the natural beauty of our materials. Pieces like the Crossover bracelet are simple in design to let our solid 14 Karat gold do the talking. Beyond the gold, we are proud of the way we source our materials. Committed to only using materials that are in accordance with the highest standards of social, environmental and human rights, we believe our actions make AUrate golden.
We're in a complicated relationship
This month, we examine all things gold, and the inextricable relationship people have always had with gold. Throughout history, gold has always been deeply connected to our humanity — a test of our greed, and also our capability to express beauty in the highest form. Our relationship status with gold has always been complicated.

From 24-karat gold bathrooms to the temples of Thailand, gold is integrated into architectural structures around the world. This valuable resource not only adds a warm beauty to structures, but the resilience of gold has functional purposes as well. The Royal Bank of Canada even implemented gold reflective glass in its windows to reduce cooling and heating costs. Extremely versatile, gold reflects the sun in the summer while it retains heat in the winter.  Who knew gold was cost-efficient and so cool (pun intended)!
Cleopatra's secret
Gold has even been rumored to enhance beauty, with an Egyptian queen swearing by it's benefits. Cleopatra, known for her goddess like beauty and her unblemished complexion, used gold face masks to maintain her beauty. We're putting in a special request for gold masks at our next spa day! 
Gold and greed
"I hope that everything I touch turns to gold" - King Midas
However, as the saying goes, all that glitters is not gold. Many literary works warn of the dangers that come from being surrounded by too much gold. In the quest for more power and influence, continual greed for gold has led many down the wrong path. This quote, from a famous greek myth reveals how King Midas learns the trappings of greed after his wish is granted. After turning his food and his own daughter into gold, he realizes the foolishness behind his wish. The moral of the story: gold can not substitute the truly important things in life.
The complex relationship people have had with gold throughout history have taught us many lessons about the nature of humanity. Gold should be used as a way to enhance the beauty that already exists in our lives, but should never become the main motive that drives our actions. 
Photographs taken by Pixabay and Alamy