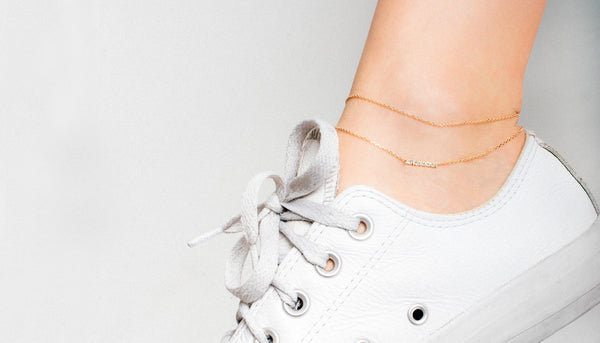 We are so into anklets. They feel different than other jewelry - a bit more secret, a bit more seductive. That unexpected flash of gold (and if you pile them on, that soft jingle as you walk) is subtle rebellion.
One of film noir's most iconic shots is an anklet, shining in the dark. It's our first glimpse of the femme fatale, and it tells us all we need to know. Shonagh Marshall recently wrote about the history of ankle jewelry for Another Magazine, and singled out devotees Anita Pallenberg (muse to the Rolling Stones) and Isabella Blow (muse to McQueen). Our favorite anklet-wearing archetype? That cool babysitter who taught you how to put on eyeliner. The one who let you stay up late if you promised not to tell she had her boyfriend over. Bet you coveted her signature anklet.
Sure, there's something sweet about them, too. Consider our Pearl Anklet: one perfect pearl on a superfine gold chain. The look is simple and clean; classic. 
Our first trio of delicate anklets are obviously perfect with summer sundresses, white kicks or bare feet on sand. But don't pack them away yet- there's never been a better autumn to wear ankle jewelry. Right now, the chicest outfits are built around a cropped pant and heels, leaving plenty of ankle to adorn. Hems on jeans are chopped off and left raw, and we see lots of trimmed cigarette pants out and about, but the short pants we really dig are wider-legged and done in fall fabrics. Look at the Milli wool trousers by Acne Studios, and the Eliza culotte - part of GOOP Label's debut capsule collection. And since New York in September is too steamy for tweed - and we never stop wearing white after Labor Day (don't be silly) - here's a perfect pair to wear for the seasonal transition: the Seloc stretch-cotton pants, by The Row, in off-white with a crisp pleat. The finishing touch? An anklet!
Shop our first anklets here. Want to get word the moment our next anklet hits the store? Subscribe!