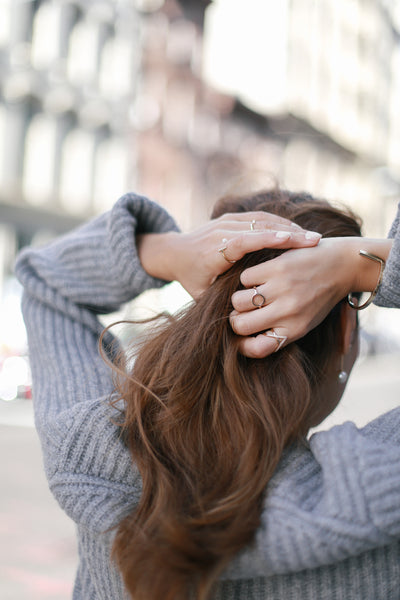 JK - we don't believe in rules. 
We design pieces that are fresh, innovative, on-trend, and modern. But also ensure that their design is not just contributing to a fleeting fad that could pass any moment.

There is no need to compromise for either trendy or timeless when you can have both. Here's our take on a few of our favorite trends that are emerging this fall:
Gold Hoop Earrings:
Hoops are in. And AUrate has hoops of all sizes for you to flaunt in your day-to-day life. Mix, match, stack, and layer –mini earcuffs (with or without the diamond) are an easy way to add detail and personality to this classic concept. Or add another geometric shape to the equation with our Gold Bar Huggie Earrings. There are so many ways to make this fan favorite look all your own and we can't wait to see how you do it
From fishbone to scarves dangling from hoops to loom-inspired aesthetics, Fall 2018 is the time to exude boldness, creativity, and the abstract. Our Tableau Earrings are simple in design, yet undoubtedly statement pieces that are sure to spark conversation.
Float through fall this year. Defy gravity with our Floating Diamond Ring –a simple gold band complemented by a single diamond as brilliant as a star at the center of its universe. Give in to the gravitational pull of this trend.
We are seeing pearls in a whole new light this fall. You'll love taking this timeless staple out of context and playing around with it a bit. Don't be afraid to break the rules and transform this simple, iridescent classic into a something fun, fresh, young, and exciting. Try our Pearl Anklet –it's anything but your grandmother's pearls. 
 
Seasons change and trends move in and out of focus, but one thing remains constant –AUrate will continue to create pieces to make you feel fabulous whether its fall, winter, spring, or summer.