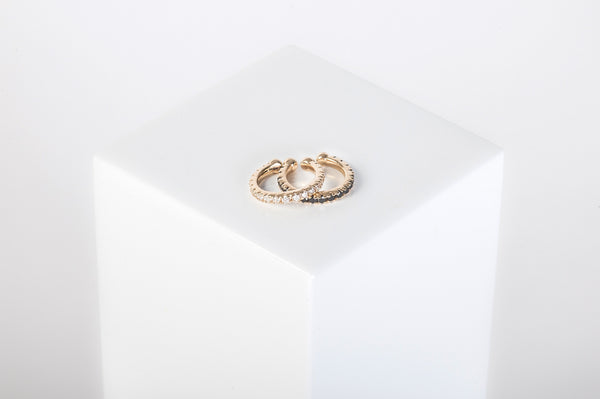 If you've ever shied away from pushing boundaries, sartorially-speaking, you are going to love what we have to say: adding edge to your look isn't difficult. In fact, all it takes is one little piece, an earpiece to be exact. And in those moments where you find yourself wanting for more - you may feel a little too polished, too feminine, or too one-dimensional - simply adding a gold earring in the form of an earcuff or ear jacket can elevate the mood into something cuttingly new.
Mini Earcuff with Diamonds, $480 | Diamond Ear Cuff Earring, $850
Don't be fooled by size. An earpiece may be small, but it makes a huge statement, far beyond what its volume suggests. It seems almost confounding that something so minute can cause such a grand impact, but that's exactly what makes an earpiece so powerful. Attitude is inherent, not overt, and the best way to show it off is in the subtlest of forms.

Pearl Path, $500 | Simple Mini Earcuff, $150 | Feather Ear Cuff, $180
It's up to you how directional you want to be - a Pearl Path strikes a balance with utter refinement, while a Diamond Earcuff adds a touch more bravado. Want to experiment with your look? The Mini Earcuff requires no piercings, making it an ideal way to play. Stunning in its own right, an earpiece works best when it contrasts, so try diamond studs for delicacy or geometric shapes for a little more strength. Or try them all together, if you wish, and revel in reactionary delight as those around you discover your nod to subtle rebellion.

Cover Image features Mini Earcuff with Diamonds, $480
Photographer: Sasha Lytvyn | Models (Editorial): Lindsey Shand & Yseult Polfiet