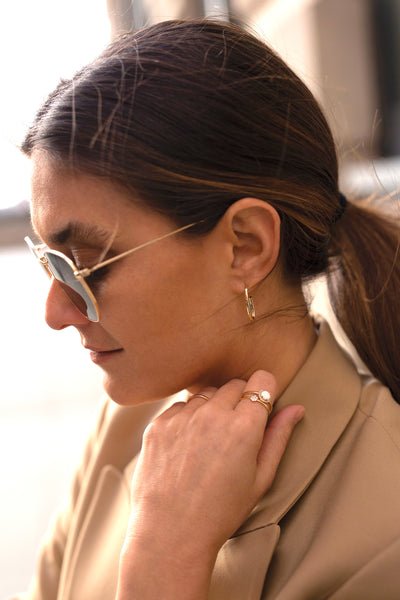 We have yet to find an identifier equally as concise and descriptive as one short sentence in You've Got Mail. In the midst of iconic New York imagery, nostalgic early 2000's café cacophony, and an otherwise inconsequential conversation, Tom Hanks states of his then-girlfriend, "Patricia makes coffee nervous." His thoughtful staccato is almost too Tom Hanks to handle (and catapults Parker Posey, aka Patricia, to the top of our underrated romcom characters list). Enter Farryn Truen.
Farryn makes coffee futile. We were familiar with her work - VP of Marketing and Brand Innovation at Sweetgreen and Senior Global Director of Digital and Creative Communications at Michael Kors - and had shaped our perceptions of her the same way we decide which celebrities would be our best friends (based on their roles and paparazzi photos). But as we sat down to grab, of all things, coffee with her, we were washing-machined in a wave of who Farryn actually is.
One: Farryn lives an essential life. She doesn't allow herself to be bogged down with extra burdens (including meaningless living space) yet she does this with a sensei level of profound depth. Two: we think she might be the human Energizer Bunny. She's already coached two CEOs through transitions, launched a marketing campaign, and had a three-hour meeting and it's only noon. Three: her passport definitely has those special inserted extra pages. Travel is paramount to her existence. Four: she's one of those annoying aliens who never poses for photos and still manages to get the shot each time. Her rich olive skin has launched a thousand self-tanners and recently graced the cover of Brides magazine.
In light of our newfound conclusions, we were even more eager to uncover not just her Spring Essentials, but the the overarching essentials that make her tick.
What are your essential places? Traveling through India has been a transformative experience and something I try to do every one or two years. There's no where that has taught me more about what it means to be human.
Why is travel so important to you? I've always been curious and fascinated by other cultures, but my love of travel developed after I studied abroad on Semester at Sea. I was able to see the world through such a unique lens, and I realized that in doing so, I actually learned more about myself. I truly believe that the more we see of this world, the more we can understand our place in it and have compassion and empathy for others. That global world view is core to who I am, both in work and in my daily life, and I am driven by my passion to make the world a smaller, more connected place.
What are your daily essentials? My husband! Lunch at the Village Den, my AUrate ear cuff, and my moms vintage Chanel bag.
What are your essential books? How Will You Measure Your Life by Clayton M. Christensen, James Allworth, and Karen Dillon. The Alchemist by Paulo Coelho. Sapiens by Yuval Noah Harari.
What are your essential products? I use the same five products every day, and that's pretty much it. Biossance Squalane Oil, Clé de Peau concealer, and Giorgio Armani Face Fabric + mascara.
What is an essential moment to you? Boarding a flight. It's always the beginning of something new.
What's your greatest attribute? I would say my compassion for others and passion for life.
What's your biggest vice? Survivalist shows! I'm obsessed with Naked and Afraid and Survivor. I've seen every single episode.
How do you master the art of "essential living"? There's no right or wrong answer, just have an intention for what you do, need or seek. It will provide you with purpose.
Farryn's Spring Essentials pick: The Medium Oval Swoosh Hoops
Follow Farryn: @jetsetfarryn