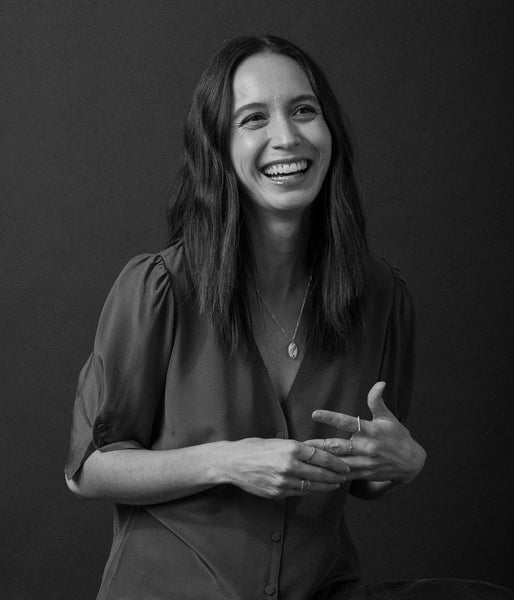 You know that feeling when you get past the dreaded first week of a juice cleanse or post-holiday health plan and your skin looks all glowy and you're happy and colors are brighter and you smile a little more? Well Nicole is that feeling in human form. Founder of Splendid Spoon, ready-to-eat, plant-based meal plans that help you with that post-spa feeling on a daily basis. Apart from giving birth to Splendid Spoon, she's a mom of two (with, though you'd never guess it, number three on the way).

Name?
Nicole Centeno
Title?
Founder and CEO of Splendid Spoon
Title you'd give yourself?
Chief Catalyst
What did you want to be growing up?
Marine Biologist.
What gets you out of bed in the morning?
My kids, my team, and my customers!
What gets you into bed at night?
I absolutely love my boyfriend, our supersoft Kerry Cassil sheets and our big down comforter -- heaven at the end of a day. 
What makes you laugh?
Julia Louis Dreyfuss. Also, someone calling me out on my neuroses (my kids, mom, and boyfriend are experts at this).
What's your favorite book?
Fiction: The Alchemist, Paulo Coelho, Non-Fiction: Journey of the Universe Mary Evelyn Tucker.
What's next on your bucket list?
Baekyangsa Temple in South Korea.
Favorite piece of art?
A clay radio from Mexico City that I knocked over at the Luis Barragan house. I carried it back to NYC in pieces and boyfriend repaired it.
Best advice you've received?
Spend time only on the 2-3 big decisions each year -- the little things, choose your path fast and move on.
What does being a female in your industry mean to you?
Strength. Persistence. Opportunity.
How do you hope to be an inspiration to others?
At the end of everyday I want to know I have made choices to help people other than myself, that I have done at least one thing that was uncomfortable, and that all of my words and actions have come from my heart. In a world where we are constantly comparing ourselves to others I strive to show people how rewarding it is to just do you.
An Aurator has a story to tell and inspires those around her. How do you share your story?
I usually wait to be asked for my story: this usually comes up in social settings. Group storytelling is my favorite - dinner parties, team potluck meals, and of course chats with other creators and leaders.
Nicole is wearing the Aurator Large Oval Pendant