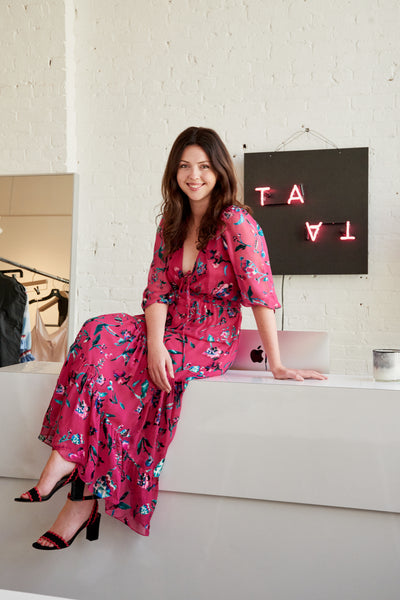 Tanya Taylor is no stranger to expression. Known for her colorfully hand painted prints on whimsical silhouettes, Tanya Taylor designs for the women who express themselves unapologetically through style. Not to mention, Michelle Obama is a huge fan.  

From graduating from Parsons School of Design to being a finalist in the CFDA Vogue Fashion Fund, the Canadian designer has already made such a colorful mark in the industry. We chatted with Tanya about personal style, jewelry preferences, and her approach to being a female CEO.
Name? Tanya Taylor
Title? CEO and Creative Director
Title you would give yourself? Juggler!
What did you want to be growing up? A dentist or a lawyer. 

What do you still want to be when you grow up?  A leader in arts/education.
What gets you out of bed in the morning? My ambition and my family - I feel very grateful for my career so it makes me excited to go to work.
What gets you into bed at night? Pure exhaustion after a hot bath and a podcast.
What's on your bucket list? A tattoo and a trip to India.
What is your favorite book? Great Expectations

Favorite piece of art? Original portrait of Helen Frankenthaler by Gordon Parks.
What does giving back mean to you? It means recognizing the blessings you have in your life whether it is talent, time or money and finding ways to positively impact others with them.
What's the best advice you've ever received? Being unique is powerful and the bigger you dream the more space you create for good things to come. 
Which women have inspired you both in career and life? My mother for her determination and grit - she is a human rainbow and the most ambitious, loving and resilient woman. My High School Principal who was a chic Australian headmaster who wore Chanel boucle and exuded poise and grace. And Michelle Obama always for her courageous public speaking and engaging warmth.
How do you celebrate yourself as a woman? I make clothes that make me feel great and allow me to express my creative side and I deeply enjoy being a mother and wife.
What're your fall staples? Tailored menswear blazers, striped knit dresses, olive colored boots, scrunchies, small lucite bags and vintage trench coats.
Fall is all about layering. What's your approach to layering jewelry? I am a very symmetrical obsessed person so I need my bracelets and earrings to be layered with symmetry. 
What's your favorite Aurate piece? The Cuff Earring!