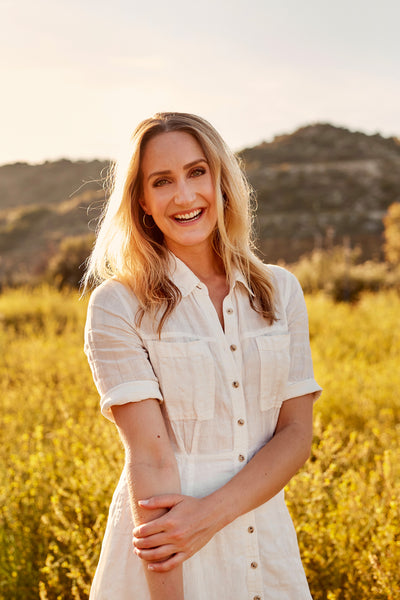 Kinfield Founder and CEO Nichole Powell roots her company in an eternal reverence for expedition, wanderlust, and the pure joy of being outdoors. This new personal care brand pioneers non-toxic solutions for recreation, nature, and everyday use, launching with a trio of flagship products—Golden Hour (DEET-free insect repellent), Sunday Spray (cooling after-sun aloe mist), and Waterbalm (moisturizing balm for the face and body). 

Beyond Kinfield, she also rock climbs, travels, and volunteers as a mentor for Girl Ventures—an organization teaching leadership and life skills to young women through adventure experiences. Nichole is based in Brooklyn, New York and always in search of the next outdoor experience. 
Name? Nichole Powell.
Title? Founder & CEO of Kinfield.
What did you want to be growing up? My first career ambition was to become a Spice Girl, and that lasted until I found out that the group wasn't exactly accepting new members. From there, I was drawn to beautiful spaces and thought I wanted to be an architect. My path has been a winding one, to say the least. 

What do you still want to be when you grow up?  For the moment—exactly what I am now! Being an entrepreneur has challenged me and pushed me in ways that I never thought possible, and I'm so thankful for every day, every win, and every challenge. I can't imagine being anywhere but here.
What gets you out of bed in the morning? Matcha ! I'm not really a "lounge in bed" kind of person, so I like getting up and getting into the day.
What gets you into bed at night? Usually, whatever book I happen to be reading at the moment. Right now I'm finally reading Normal People, by Sally Rooney, and I just finished Three Women, which was recommended to me by… everyone. They weren't wrong.
What's on your bucket list?  It is a long list, but some things that come to mind—visit Havasupi Falls, travel to Oman, and get my pilot's license. Oh, and learn how to saber a bottle of champagne. It just seems fun.
Favorite piece of art? Anything by Clyfford Still. I'm dying to visit his museum in Denver.
What does giving back mean to you? Giving back is a part of building a happier, healthier tomorrow. It means choosing to show up for the community that you are a part of—whether that's the neighborhood you live in, or the community of people all over the world who are advocating for stronger environmental protections or universal access to clean water. We are all interconnected, and giving back is an incredible way to recognize, and remind ourselves of, that!
What's the best advice you've received? I've received a lot of wonderful advice, but one of my favorite pieces was: Go to sleep. One of my best friends said it to me when I was up late, stressed out and not thinking clearly, and had asked her what to do about a situation that I was struggling with. She said, "Go to sleep. You'll know what to do in the morning." And she was right. It's amazing how much a little rest can clear your head.
Which women have inspired you the most in both career and life? How much time do you have? I'm fortunate to be surrounded by a lot of incredible women—within my own family, my mom went back to medical school later in life to pursue her dream of becoming a doctor. I think about her whenever the going gets tough, as she is the very definition of grit and focus. I'm deeply inspired by many of the young women who are emerging as some of the most powerful voices of today—Greta Thunberg, for example. How can we be more like Greta, and hold true to our ideals even in the face of being told that we are too young, too inexperienced, too this, too that? I admire her greatly for what she is doing in the call to action to combat climate change.
How do you hope to be an inspiration for others? I hope to inspire others to be kind and compassionate—for themselves, for their communities, and for the world around them. It's a dark world if you choose to see it that way, but if you look for goodness and put forth kindness, it will come back to you tenfold. As to my work with Kinfield, I hope that we are able to set an example of a successful company that is grounded in a sustainability-first mindset. Too long have we assumed that profit had to come at the expense of the environment, and I hope that we can inspire others to follow in our footsteps and build for good.
What're your fall staples? I'm a big textures person, and I appreciate a uniform when it comes to everyday dressing—so as soon as the temperatures start to drop, I basically only wear my favorite broken-in Levi's and a rotating cast of cashmere sweaters (with my favorite jewelry, of course). I also love a monochrome look, and am really excited to find a great colored suit in a fall color—maybe a deep oxblood. Send recommendations my way.
What's your favorite Aurate piece? I love the look of layering the two chain necklaces (Medium Chain Necklace + Large Chain Necklace) together.