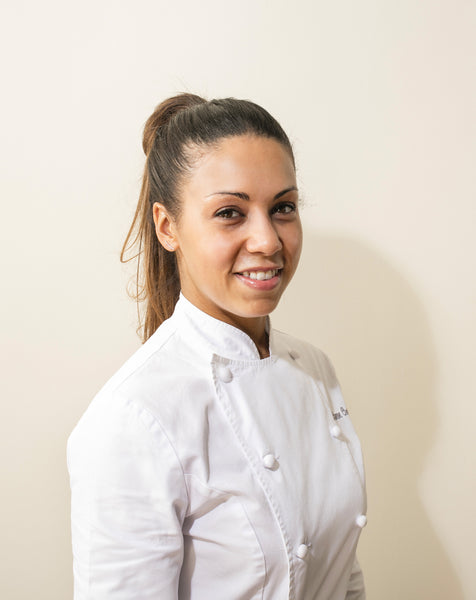 Chef Adrienne Cheatham grew up in the kitchens and dining rooms of the restaurants her mother managed in Chicago, Illinois. Having wanted to be a chef since age 6, Adrienne never lost sight of her hustle. From catering events in college and in her local community to working as a line cook in Orlando post graduating Magna Cum Laude, food was always at the forefront. 

Adrienne went on to compete in season 15 of Top Chef, where she made it to the finale finishing as first runner up. She has since appeared in Food & Wine, US Weekly, Sports Illustrated online, People, Grubstreet, Eater, AM New York, the list goes on. She is also the founder of SundayBest, a pop-up series held in secret locations around Harlem where she currently lives with her husband. Let's get to know the female behind the hustle.
Name? Adrienne Cheatham.
Title? Chef-Founder of SundayBest Pop Up Series.
Title you would give yourself? Lover of Life!
What did you want to be growing up? A chef! Seriously, when I was 6 that's what I told my mom I wanted to be. 

What do you still want to be when you grow up?  An ambassador of what eating good food does for you on all levels.
What gets you out of bed in the morning? Knowing there's so much cool shit out there that I just might scratch the surface of.
What gets you into bed at night? My husband, we both work a lot so we share a little couch time then get ready for bed where we talk and laugh before dozing off.
What's on your bucket list? The whole fucking world.
What is your favorite book? The Godfather by Mario Puzo. I have an old copy from my sister that says "soon to be a major motion picture." I've read it over 10 times.

Favorite piece of art? A Gordon Parks photo, "Window-shopping," from his 1956 series in Life magazine. The image itself is powerful and moving, and after staring at it I realized you can see his slight reflection in the glass as he takes a picture of Ondria Tanner and her grandmother in Alabama.
What does giving back mean to you? Realizing that the intentional acts of giving back matter, but also the unintentional, and unplanned moments also. Be aware, because you never know when your actions and words can affect someone!
How do you celebrate yourself as a woman? I used to try to blend in with the guys, not stand out. But then I remembered how fucking amazing it is to be a woman! I like to indulge in pedicures, and subtle touches like earrings or a bracelet that don't interfere with work but make me pay attention to the details of me like I do with food.
What's your favorite Aurate piece? Tough question! I love the Obelisk Ring, Mercer Ring, and the Icon Anklet.