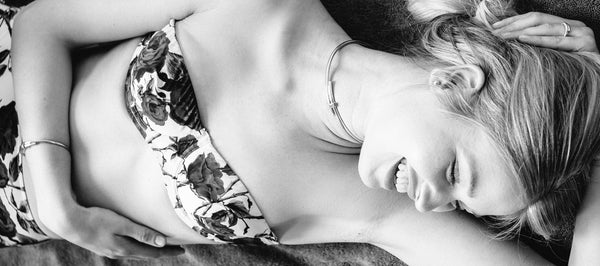 Do you wear jewelry to the beach? Maybe it's just us, but nothing feels sexier than gold against skin in the sun. It's hard to believe summer's last long weekend is already here, but we plan to make the best of it by getting a mega-dose of Hamptons vitamin D and catching up on a little summer reading. 
If you're packing for Labor Day weekend at the beach like we are, go for minimalist glam: a knockout suit, loose hair, a bit of gold, and a good book. That's all you need. We shot this look with what we think is this year's most beautiful bikini. Dolce & Gabbana's rose-print suits have sold out, but you can still grab their tulip and other lush floral prints here. The high-waisted silhouette strikes the perfect balance between vintage and modern.
We're showing off jewelry from one of our most timeless collections here. These pieces work in every season. And, it's worth noting, the Crossover Bracelet in solid 14k gold has hook-and-clasp closures, to stay extra secure (but please take it off before you ride the waves!).
Though we definitely approve of wearing our jewelry on the beach, we skip makeup altogether. Instead, just hydrate and add a little glow, with a deliciously scented oil, like Flora by Sunday Riley. Add a sea-salt spray like this one, to keep the beach waves and you're done.
We kept hearing about Emma Cline's mesmerizing debut novel The Girls and now we're riveted! Set in California in the 1960s, it follows a lonely teenage girl, desperate to be accepted by a dangerous new circle of friends.
Next up, another first book by a young woman. Nadja Speigelman's memoir, I'm Supposed to Protect You From All This, delves into her fraught, complicated relationship with her mother, New Yorker art critic Françoise Mouly. 
If you're wearing your AUrate gold at the beach, show us on Instagram @auratenewyork. And if you are spending Labor Day weekend in the Hamptons, stop by our Pop-Up Shop. We've had an amazing time this summer, meeting so many of you at our little shop by the beach. But when the holiday weekend ends, it's all over (until next year!), so come on in and say hello. We hate goodbyes!