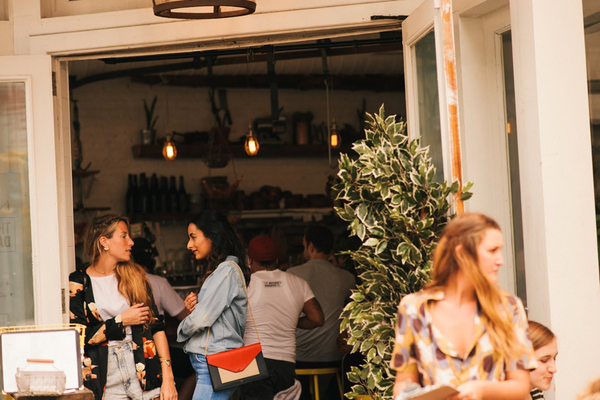 Visiting The Butcher's Daughter brings us joy on multiple levels (you know New Yorkers, always multitasking, even on following our bliss.). For starters, everything on the menu exists at the pinnacle of healthy eating - super clean, super ethical. And you know we appreciate a clever way with words here at AUrate. The Butcher's Daughter is a "vegetable slaughter house", which means all veggies, no meat, predominantly vegan and gluten-free, and all sourced from local farms. Put simply: so much food and zero guilt.
We love eating healthy but - real talk - we can do without the sanctimonious vibe that arises at some of the city's popular altars to wellness. (Not naming names!) There's none of that here; this is no smug hippie paradise. Instead, you'll inhale cool, eclectic ambiance as you place your order at the counter. Lay your claim to some oh-so-scarce outdoor seating and you're in the perfect spot to catch up with your squad or spend some couple time on a Sunday afternoon.
You're right smack on Kenmare street – in fact, across from the building where we shot our first ever AUrate shoot – so expect plenty of Nolita eye-candy to entertain while you munch on your avocado toast with adzuki bean bacon.
Even waiting is not the usual pain that tends to accompany brunching in NYC. Hang out on a bench and grab a little amuse bouche juice. Our favorite is the Yellow Juice, a blend of pineapple, jicama and lemon. We are fans. Happy fans.
Good news: now you can order delivery online from any of The Butcher's Daughter three locations in Manhattan. Actually might do that... right now.
The Butcher's Daughter
19 Kenmare Street
NYC 10021
212 219-3434
Above, Sophie wears the Flower Earring Back Small and the Obelisk Ring. Below, she wears the X Cuff in rose gold. Photographer: Sasha Lytvyn .