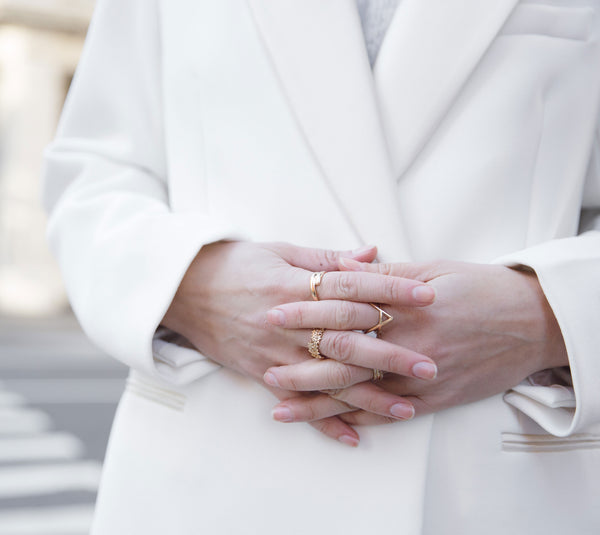 At AUrate, we don't believe you need a man to put a ring on it.

Not quite ready to commit to a lifetime with one person? Commit to pure, ethically sourced materials, honest prices, and a gorgeous new look instead.
Here's what we're thinking: why spend money on a ring for someone else, when you can just buy one for yourself? Get the ring you really want at AUrate.
Love is a tricky game in which you never know what you're gonna get. But one constant you can always count on is the quality and beauty of our solid 18 and 14-karat gold. And to give you the flexibility you deserve in a partnership, we also offer vermeil (silver plated with gold), which technically requires 10-karat gold with a thickness of 1.5 microns. Our vermeil, though, is 14-karat with a thickness of 2.5 microns thick –because we're prepared to go that extra mile for you.
Our gold is 100% ethically sourced (we track our materials from start to finish just to be extra sure) and honestly priced. We're not playing games –you know exactly what you're getting yourself into when you say, "I do" to AUrate.
Our gold is guaranteed to last you a lifetime, so what more could you need? You'll forever be in the honeymoon phase with our gorgeous rings.
Fall in love with no strings attached and shop our collection this wedding season.