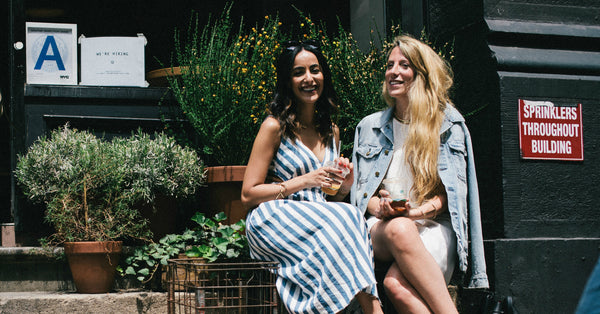 Today we're taking you along to our go-to coffee spot in SoHo: Smile To Go on Howard Street. Just a short walk from our showroom, and dangerously close to Opening Ceremony, this offshoot of The Smile NYC restaurant is perfect when we need a breather, a snack or some inspiration. We love to check out what the chic SoHo regulars are wearing - and we always get excited when we spot our jewelry on someone!
This is definitely not just a coffee place - their menu is so creative. Passionfruit-poppy scones or strawberry-almond bread for breakfast, and honeydew and cucumber salad or golden turmeric root with roasted carrots for an energizing lunch.
One of our favorite things about working in the city is finding the neighborhood places that feel like ours. We're going to be introducing a bunch of them to you here on the blog: all our favorite NYC restaurants, shops and more.
Bouchra, left, wears the Icon Cuff and Flower Rings. Sophie, right, wears the Obelisk Ring and X Rings. Photography by Sasha Lytvyn.
Until next time, follow @thesmilenyc on Instagram for daily surprise treats. This week they made popsicles in flavors like chia-coconut-milk-strawberry, and then cheered up wilted SoHo shoppers with a pop-up lemonade stand. If you're downtown, take a break. And if you see us there, come say hello!
Smile To Go. 22 Howard Street 
thesmilenyc.com