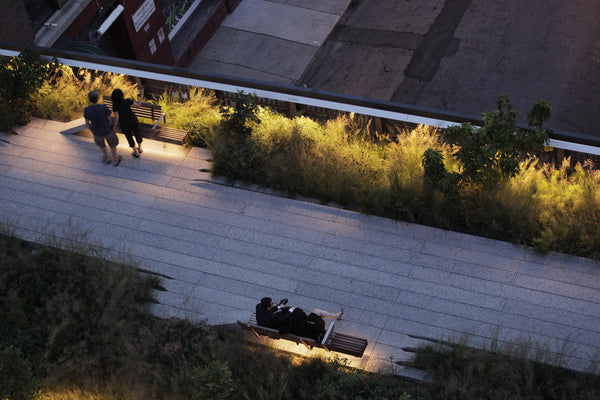 Looking for romantic date night ideas? We have a new favorite: Stargazing on The Highline.
Living in New York City, where the lights never go out, it's easy to forget just how many stars are above us. Looking at the night sky, through a high-powered telescope, and rediscovering constellations feels truly magical. Every Tuesday evening through October, the Amateur Astronomers Association of New York shares their equipment and knowledge with visitors to The Highline.
Highlights of this month's sky include the Summer Triangle of Vega in Lyra the Harp, Deneb in Cygnus the Swan, and Al-tair in Aquila the Eagle, and familiar constellations like Cassiopeia, Capricornus, Andromeda and of course, the big and little dippers.
It's no exaggeration to say this experience can restore your sense of wonder. And that is what makes it so perfect for a date. Get there in time to watch the sunset, then let yourself get dazzled by science and stars, and finish with cocktails at The Top of The Standard.
 Top of The Standard; Patrick Barry 
Last time we were at Top of The Standard we tried The Castaway. Inspired by South Asian desserts, this drink is made with Brooklyn-made Owney's Rum, coconut-rose milk and cardamon. So decadent!
An ideal date - especially a first date - gives you something to talk about. Add a glittering view, and maybe even some existential perspective, and you'll be deep in conversation by the time you settle in at the bar. So... Cheers, here's to finding love!

Stargazing takes place near the 14th Street entrance, just south of the Standard Hotel. Tuesdays at dusk, through October 25. More info at thehighline.org.