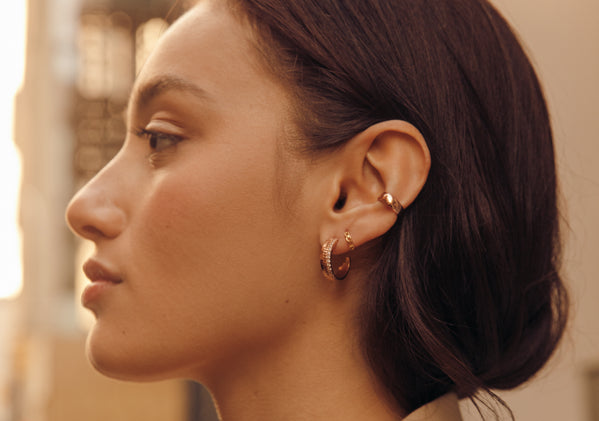 Messy buns are the new blowouts and your ears are more exposed than ever. Here are our favorite earrings to stack while your lobes have their moment.
Aurate's 3 steps to the perfect ear stacks
1. Layer Up: Earrings are like party guests -- the more the merrier.
Load up on dainty stacking darlings. Becca is pairing our Bold Ear Cuff with our Large Flower Back Earrings and our Huggie Earrings with Bezel for a combination of length and thickness.
2. Mix It Up: Earrings are not like shoes -- they don't need to match.
Surprise from the right and shine from the left. Kate is wearing our Long Beam Hoop and our Short Beam Hoop on opposite ears for a switch up.
3. Always Cuffing Season: Cuffs are better on your ears -- add a bit of edge and extra sparkle (no piercing necessary). Zeta is pairing our Infinity Ear Cuff with our Wide Diamond Huggie Earrings and our Lean on Me Hoops for infinity hugs on top.