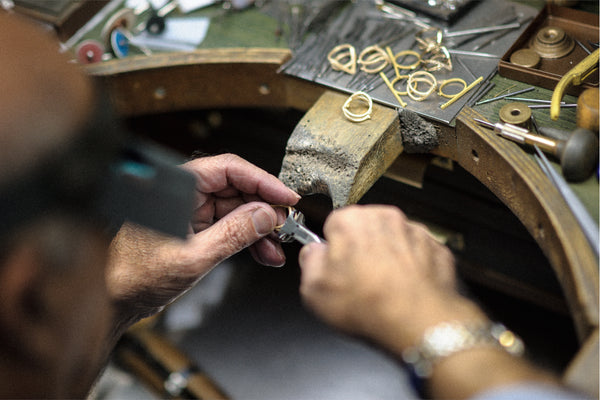 It was a gray, dreary and oppressively wet day when we dropped into our NYC workshop to get the lowdown from David, our resident craftsman. Located in midtown's bustling Diamond District, a journey to the workshop usually involves a good degree of zigzagging, an effort to avoid the slow-paced tourists and the copious diamond hawkers promoting their wares to all who walk by. This day was no different, or perhaps it was filled with even more obstacles, as we leaped over the many puddles pooling in Manhattan's uneven sidewalks, umbrellas clasped firmly in our ring-stacked hands. So it was a welcome respite when we finally made it into the workshop, comforted by the familiar warmth and whirring of soldering irons operating at full tilt.
A glimpse into our NYC workshop, where David crafts our Geometric Square Ring ($1600) and Icon Ring ($380)
David, as always, was hard at work perfecting one of our most popular pieces. As he assembled and polished the delicate piece, he recounted how he got started in the business, his precision and focus never wavering. "Practice, practice, practice," he shared, as we delved into his beginnings. With 40 years experience now under his belt, 27 of them in New York, 11 in Israel and the remainder in Russia, it's clear David's dedication to honing his craft has led him down a highly successful path. He laughs when asked what a typical day is like, for no two hours are the same, let alone days. But when questioned on the impact of technology, he adopts a much more serious tone, its gravity amplified by his lingering Russian accent.  "Now there is different technology, everything's different. Before it was all handmade, today everything is computer designed, faster. But it's better quality when it's handmade." The significance of his working an AUrate piece while articulating this point was not lost on us.
Of course, technology is not the only major change David has seen since he started in the business. Consumer tastes are now vastly different too. He recalled previous pieces he created, ornate in their detail, with stones and pearls much more ostentatious than what is seen today. We were all in agreement that refined, delicate pieces are much more in vogue, with jewelry aficionados
opting for minimal styles that can be worn day in, day out. That doesn't impact the attention or care that David puts into crafting his pieces, however, and we were reminded as much when he discussed his process.
David hard at work perfecting our Icon Ring ($380)
"It's not just one process to finish, it's four or five," he points out, emphasizing the steps of "polishing, assembling, setting, polish, then finishing". Which led us to a discussion on the importance of design, and how vital it is to be accurate from the very first step. It's another element we were all in agreement on, and as we gathered ourselves to leave David to another fulfilling day of creation, we couldn't help but feel proud of our team. Dedicated, committed and supremely talented, we felt almost smug to we have such wonderful people creating each and every piece. And as we stepped back onto Manhattan's swarming streets, the day seemed to have become brighter. Or perhaps it was simply the glow emanating from the freshly-crafted gold bracelet we had just collected.