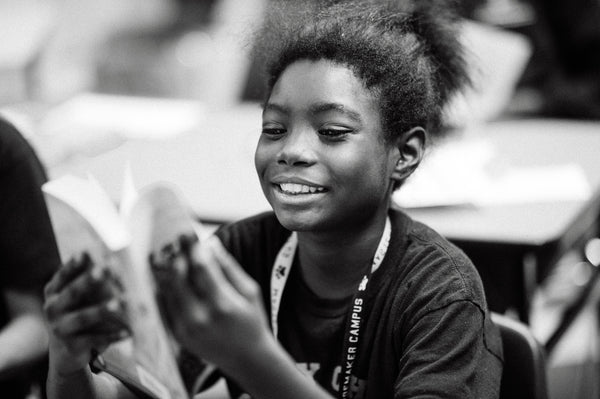 As you are probably aware, giving back to the community is one of AUrate's core values, so much so that our business operates on a one to one giving model, where for every piece of jewelry purchased a book is donated to an economically underprivileged child. You may recognize this program as 'A Book for Your Look', and with Thanksgiving here, we can't think of better time to share the beautiful words from some of the recipients of our giving.
Thanks to our charity partner, Mastery Charter, we were recently lucky enough to visit a local Philadelphia school, and we are happy to say that our program has donated several thousands of books to date. When delivering these books to the students, seeing the looks on their faces and hearing how happy they are to receive them, reminds us just how much we love our work, and how committed we are to making a difference.
So as you give thanks for all of the wonderful things in your lives, we to want to take the opportunity to give thanks to you. It's with your support and belief in the AUrate brand that we are able to give the gift of literacy to these deserving children. Below, you will find an uplifting and inspiring read for your Thanksgiving holiday, as students share their thoughts on books and reading. The first in a two-part series, these sentiments are a true reminder that children are the future.
I like learning new things,
and I think books are the best way to do that
"My name is Husnaa and I am junior from West Philadelphia. I really like writing, playing with flower crowns, and playing with my cat. My cat's name is Maya, after Maya Angelou, because I like poetry. My family won't let me get more cats so I asked for a goat! When I grow up, I want to study either biology or psychology, with a focus on literature. I also want to be a farmer - I really like being away and I like flowers, so I want to be a working woman and have a farm. That's why I need a goat, I have to learn!
I like learning new things, and I think books are the best way to do that. They are a really good way to improve your writing because you get to see different genres and different styles of writing, and that might influence how you write and define your voice better.
I really like The Perks of being a Wallflower by Stephen Chbosky, as I really identify with the main character Charlie. I identify with a lot of his life experiences and his response to situations. I like that it's written in letter form to an anonymous person. I have seen the movie multiple times but I think the book is better.
With AUrate's A Book for your Look program, I think it's really good to be promoting literacy, and also the fact that it's one for one - I think it's really compassionate and an important thing to have. I get really excited when I receive a new book, anticipating the knowledge that you're about to take in. I also like the fact that whoever wrote the book had the courage to share it with you. A new book really is a gift, whether it came out new or whether I just had never heard of it before, I get really excited because I learn something new."
Reading is a passion for me
"My name is Dymir and I love to read. Reading is a passion for me because it allows me to escape into a whole other world - I actually want to be an author.
I actually think A Book for Your Look is a good program because people, girls especially, they like to buy jewelry and as they buy their jewelry, we get more books, so more students can have good books to read.
I feel happy when I receive a new book because it's something else for me to read about or to learn about. If I need to learn about greek gods, or how pollution affects us, books hold a lot of information and I love to learn."
I like that reading is an escape from the world

"My name is Cahlil. I am 15, I like to read and I like to write poetry, books, and stories. Short stories are the easiest. I want to be a writer or a chemist. I know that they are very far apart, but sciences are my thing, especially biology and chemistry. And writing, that could be a small time thing that I do to pass the time. Then I could be a published author and a scientist!
I like that reading is an escape from the world. It gives you a different view on things and gives you a different perspective - it takes you out in the world. I recently read the Divergent series, and I liked that because it had a different take on things, it was an action-packed thriller with suspense."
"I think the
A Book For Your Look program is clever! Books are not given out a lot these days, because everything is digital, and I think it's clever to sell jewelry and then give a donation.
When I receive a new book I feel many different emotions, but the number one thing I feel is excitement. I feel excited about the different world, to receive and read about something different."
I feel excited when I receive a new book
"I am 12 years old and I'm in seventh grade. I don't really know yet what I want to be when I grow up, but I try my best to do things that I would enjoy getting paid for.
What I like about reading is how it always teaches you a lesson. My favorite book is The Giver by Lois Lowry because it's deep, and I like the way the story is told. It's true, but at the same time, it's not.
I think the A Book For Your Look program is very nice and helpful to our school and also to our community. I feel excited when I receive a new book!"
Keep an eye on the blog for the second part of this series, featuring even more inspiring words from our book recipients.
You can find out more about our A Book for Your Look program, and our charity partner, Mastery Charter, by visiting 'Real Giving' on our website. Already supported our giving? Show us how you style your favorite AUrate pieces by tagging @AUrateNewYork and using #RealGiving.