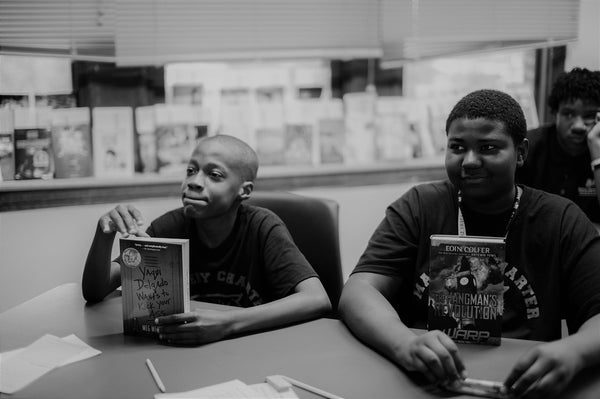 At AUrate, giving back is at the heart of everything we do. Beyond the jewelry, we care for people, and are always looking for ways in which we can say thank you to our community. Since our company's inception, we have partnered with Mastery Charter to create 'A Book for Your Look', a program that aims to empower children in need through the gift of reading.
Reading allows you to travel
We believe books have the power to spark curiosity, where children can broaden their imaginations as they visit different places and encounter different people in the world through the pages of a novel. A cheap alternative to traveling? We'll take it! Our wish is that reading done today will open doors tomorrow, and mold students into responsible and kind citizens of the future.
Luckily, we get the chance to visit schools and personally hand out our books. Nothing gives us more joy than seeing the bright smiles on the faces of students when they unwrap a new book. Last week, we made one of these visits and would love to share the wonderful stories we left with. Our team handed out more than 2000 books, but our favorite part has got to be sitting down to chat with the kids. We love getting to know a little bit about who they are and who they hope to become.
I hope to study psychology at Harvard
We met Kaiyah, a girl with the goal of becoming a Harvard scholar. In spite of her age, she was definitely a force to be reckoned with! We were definitely a little bit intimidated. Currently a member of the Robotics team at her school, she hopes to further her passion for psychology by attending one of the best universities in the country. No doubt, we will hear more about Kaiyah in the future.
A summer internship at AUrate
We also met Robynne, who is currently torn between her passion for illustration and marketing. We suggested why not do both? Who says you can't combine two passions? Our marketing team also shared their experience as a member of the marketing team at AUrate with her. She discovered that a lot of marketing actually has a large design component! We really do try to provide real tangible help in any way that we can, so we encouraged Robyn to send in her resume for consideration for a summer internship with our marketing team next year. We would love to have her on the team. All of us couldn't help but smile when she enthusiastically gave each of us giant hugs.
Can reading be dangerous?
However, we were warned by the students that reading can be dangerous. We were intrigued to find out how? They giggled and joked that accidents were common in the hallways due to too much reading! Many students get so engrossed in trying to find out what happens to their favorite character that they just can't put their books down. They insist on reading even while walking (do not try this at home). We suggested wearing helmets!
Sharing helps us achieve more
The day winded down by exchanging our favorite books within the classroom. The goal of this activity was to encourage an environment of open sharing among classmates, because we know the importance of building each other up and helping one another to improve. Each child shared their favorite picks with their classmates, and we showed our support for each other by snapping our fingers in agreement when a particular book we loved was mentioned. Divergent was a huge hit! We left our visit feeling grateful, reminded of the purpose of our work and why we do what we do.