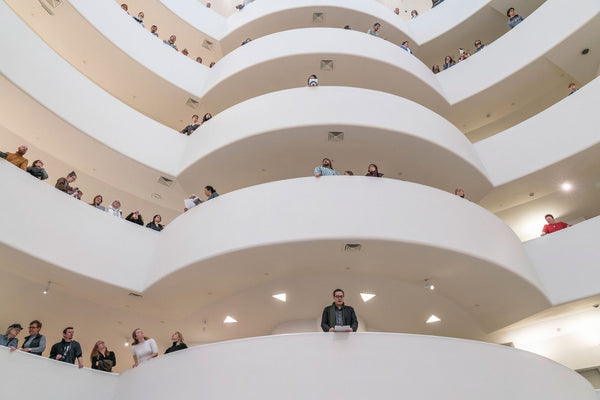 There is no single kind of AUrate woman. Rather, our jewelry is meant to be worn by real inspiring women from around the world with their own individuality, culture and values. With our fair pricing and direct-to-consumer business model, we hope our pieces can accommodate a wide range of women from all backgrounds.
Join our Inner Circle
We believe the circle is a symbol for wholeness and inclusion. For the launch of our circle collection, we celebrate and embrace diversity of ethnicity, race, socioeconomic status, and gender. This fundamental geometric shape expresses our value of cultivating empathy and being kind. Through practicing empathy, we remove barriers which allow us to widen our circle of relationships to make those around us feel accepted. At AUrate we value diversity of opinion, seeking to understand instead of to discriminate. This is how we become more inclusive and giving as a company.
Circle through New York 
For our jewelry collections, we take a lot of inspiration from New York city and love supporting the innovative projects New Yorkers are constantly creating. The idea for our new Solid Circle Collection was inspired by Lenka Clayton and Jon Rubin's art project titled, "…circle through New York", for the Guggehiem Social Practice initiative. The project's goal is to cultivate empathy among a heterogeneous public by using art to challenge reality.
In "…circle through New York", the two artists drew an imaginary circle through New York that connects Harlem, the South Bronx, Queens, and Manhattan's Upper East Side. They asked six public venues located in areas along the path of their circle to participate in a system of "social and material exchange". The artists purposefully chose a diverse group of local communities at sites usually separated by cultural, socio-economic, and geographic boundaries.
A Talking Parrot? 
Clayton and Rubin worked with these venues to choose important aspects of their identity. The chosen aspects of identity were a talking parrot, a high school drama class, a Punjabi TV show, the oldest song in the world, a museum artwork, and a congregation's call to action. 
These aspects of identity represent each location's individuality, culture, and values. When they are rotated to a new place in the city where they would not usually be found, people may experience moments of connection between communities they would usually be separated from, through art. The project encourages people to accept as well as develop care for a different value and cultural system as they go about their daily routines. Starting from March 1 to August 31 2017, these different aspects of identity are currently being rotated among six different locations. 
Circle Through New York - Teaser from rtfice on Vimeo.