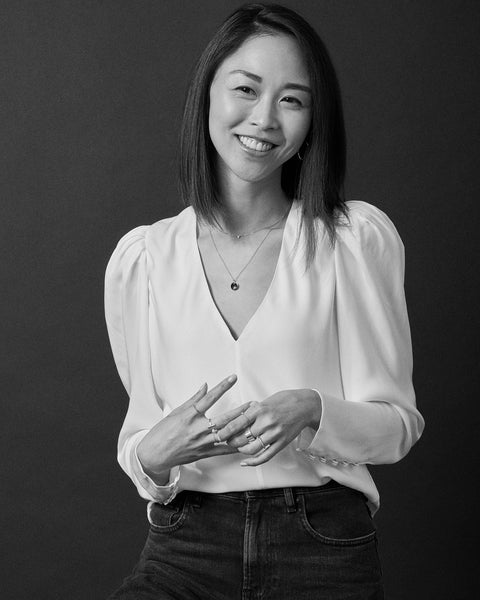 We wouldn't count household chores as one of our great passions, quite the opposite actually. Which is one of the many reasons why Sarah Paiji Yoo knocked our socks off. Founder of Bluelands, a brand modernizing household cleaning products through sustainability (a word we love to hear), Sarah is single handedly ridding the world of single-use plastics one spray bottle at a time.

Name?
Sarah Paiji Yoo
Title?
Founder and CEO of Blueland
What did you want to be growing up?
A pediatrician! I love children and always wanted to be a caregiver.
What gets you out of bed in the morning?
My (sometimes crying) son.
What gets you into bed at night?
Pure exhaustion! 
Where's your favorite place to visit?
LA - My family still lives there so I love going home to visit them.
What's on your bucket list?
When my son grows up, I can't wait to be able to show him the world.
Favorite past time?
Running and being outdoors.
How do you stay motivated?
I'm really lucky to work for a company that has a broader mission beyond just building a "successful business", and this inspires me and motivates me every day.
What's the best advice you've received?
Make sure you have enough oxygen to make the right decisions (sleeping in on the weekends is my cure for this).
What's does being a female in your industry mean?
Women make up 90% of the household buying consumer. I don't have a cleaner for my home because I really want to understand my customer behavior.
How do you hope to be an inspiration to others?
Encouraging women to start before they're 100% ready. Once you jump in, you should just believe in yourself and work hard to make it happen.
An Aurator has a story to tell and inspires those around her. How do you share your story?
Storytelling and Instagram are super important for our company. I feel really lucky to be building a business on the internet. Instagram really opened us up to becoming more than just a cleaning brand.
Sarah is wearing the Aurator Small Circle Pendant