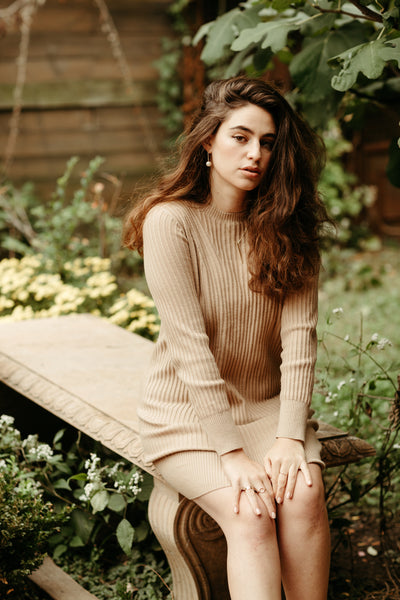 Aija is a bestselling author, poet, performer, and activist. She started writing her first book "The Survival Guide to Bullying" when she was 16 years old, after having been bullied for many years. She self published her book before it was acquired by Scholastic and published around the world. It soon became an international bestseller. 
Aija has performed poetry at venues like Madison Square Garden, SXSW and SXSW EDU, Girl Boss Rally, the United Nations General Assembly, Pop Sugar Playground, the Harvard Club, Penn State University, and Instagram/Facebook. Aija has also spoken alongside of Kenneth Cole, Patrick Kennedy, Ban Ki-Moon, Piera Gelardi, Rupi Kaur, Sophia Amoruso, amongst others. We sat down with her to chat life, jewelry, and what women have inspired her thus far. 
Hi Aija! Can you tell us briefly about yourself?

I am an author, poet, and performer! I wrote my first book "The Survival Guide to Bullying" when I was in high school and self published it. A month later, Scholastic acquired it and shortly thereafter, it became a bestseller. I was starting undergrad at NYU and simultaneously traveled around the country speaking at schools and communities around bullying, mental health, and education. I wound up speaking to 4 million people in 4 years. That's when I started getting into poetry, as I would talk about these themes through poetry and it began to take off. My next book comes out in April and it's very different.

What role does jewelry play in your everyday?

I love to wear uniforms and by that I mean - I like to not think too much about what I'm wearing for the day so jewelery is a staple and key part of my uniform. I have a few rings that have significance to me and earrings I love. When I'm wearing it all together I feel ready to take on the day.

Do you wear any staple jewelry pieces that have symbolic meaning to you?

As a teenager, I was so drawn to rings and hoops. I don't know what the symbolism is for me, but I feel ready to take on the day when I'm wearing my set of rings and my gold hoops. I feel powerful and confident. I have a ring that says love that my parents gave to me as a reminder to constantly work on loving myself, accepting myself, and accepting love. I also have another ring I wear that was my mom's when she was my age. Then I have my favorite pair of hoops that I wear most days.

Were you always interested in activism?

I was always interested in trying to change the things and systems that were broken but I didn't know that was activism and didn't have the language for it. When I wrote my first book and started going around the country to speak and work with schools and communities, the people that followed me called it activism. I sort of fell into it, but the basis of activism and the fundamental beliefs - I've always had that.

How did you get into spoken-word poetry and performances?

When I was on my book tour, I decided I wanted to tell my whole story with bullying through poetry. I had written poetry for years but never called it poetry. I have some learning disabilities and struggled a lot in school. I failed my poetry segment every year. I had no intention of ever writing poetry again. But I was so inspired by Hamilton and finding a digestible way to tell my 10 year story in 10 minutes. As soon as I started performing (and bare in mind - I still wasn't calling it poetry) it immediately took off. I realized that not only did I love this form of writing and
performance, but it was a way to talk about difficult subjects. I completely and totally fell in love with it.

In what ways do you empower yourself in order to empower others?

I don't know how I empower myself necessarily, but I believe at my core that speaking your truth and owning your vulnerability is a very important part of life. I hope that my vulnerability breeds vulnerability in those that read my work or watch my performances.

What motivated you to write your first published book during your teenage years?

I was bullied from the time I was 8 years old until I was 16. I had a lisp and a stutter and it started there, but grew in severity. I really struggled with my mental health and I never told anyone what i was going through. When I was a freshman in high school, a girl I had never met (who went to my old school) dressed up as me for Halloween and posted it online. It went viral. I hit a really dark place. A year later, there were so many teen suicides in the news. I was so angry that no one was showing up for these kids. I wanted to show them that suicide was never the answer and that I, too, felt that pain and hopelessness, but it did get better. So I started to write my book - initially just for myself - as the book that I never had but always needed.

Style evolution and self discovery at times are very much correlated. How did you find a greater sense of self and what was that journey like for you?

I found myself through writing. My journey of exploration has been through my writing and performance. Before writing my book, I had no confidence or belief in myself. And after writing my book, there were still MANY years where I was rejected by every publisher. But through writing, I rediscovered my thirst for life that I felt had been taken after the bullying. I was fierce and fearless and driven to tell my story. Nowadays, whenever I feel myself struggling, I know I have to pick up a pen and write.

Often times, jewelry has been marketed for decades as a gift you receive from someone else. We're changing that narrative. Today's jewelry is a gift to oneself, a celebration, be it for the everyday feats we as women conquer, or the milestone moments. How do you take time to celebrate yourself?

I celebrate myself by doing the things that set my soul on fire. I love being in nature, traveling and going on adventures. I love dancing and spending time with family and friends. When I want to celebrate myself or when I'm having a hard time - this is what I do.

Which women have inspired you most in both career and life?

Personally - my mom and the women that came before me - particularly my grandmothers - that I never met. Professionally - Oprah, Maya Angelou, and many others.

How do you hope to inspire other women?

I don't think I've thought too much about how I specifically hope to inspire other women, but I hope to be a source of motivation to speak your truth, to stand up for what you believe in, and to chase the thing that sets your soul on fire.