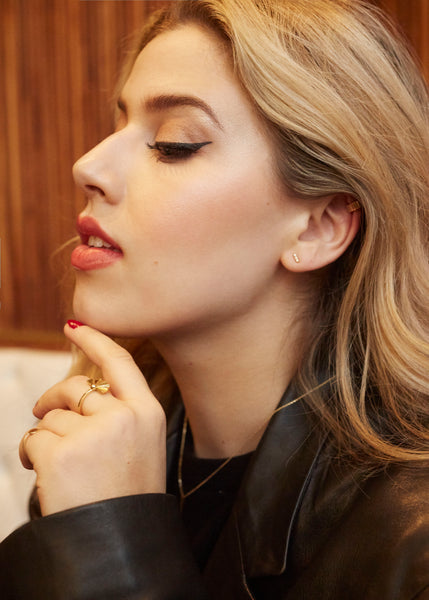 Christina Grasso (aka @thepouf) is a writer, social media person, and very old soul originally from the suburbs of Amish Country in Western PA (read: Middle of Nowhere). She currently leads social media at Flesh Beauty. In addition to her work in fashion and beauty, Christina co-founded The Chain, a non-profit support network for women with eating disorders, and serves on the advisory board for Glam4Good Foundation. She graduated in 2011 from Saint Mary's College with concentrations in Communication and Italian. She lives on the Upper East Side with her cat, Stevie Nicks, and her growing collection of Fleetwood Mac vinyls.
Hi Christina! Can you tell us briefly about yourself?
Hello! My name is Christina and I'm a beauty/fashion/social media person living in New York City. My day job is leading social for Flesh Beauty, and by night I co-lead a non-profit organization called The Chain that supports women with eating disorders. In my spare time, I enjoy spending time with my family, listening to Fleetwood Mac (and other music boomers love), drinking coffee and/or Aperol Spritzes, dancing, and avoiding the sun at all costs.
What role does jewelry play in your everyday?
I've always been pretty minimal when it comes to jewelry–I'll usually only wear a couple of subtle, usually special pieces.
Do you wear any staple jewelry pieces that have symbolic meaning to you?
I used to wear my class ring everyday. I graduated from a school–Saint Mary's College–that has a very special, very distinctive ring, and I'd have moments, even in New York, where I'd meet a fellow alumna through identifying her ring. It was very Delta Nu, if you will. Unfortunately, it flew off into the subway tracks on a cold day last winter, and I haven't ordered a new one yet, so I've been wearing a ring in its place that was my Nana's. Otherwise, I often wear a diamond French Cross necklace my parents gave me for my graduation, a gold Saint Jude medal from my friend, Stacy, or a gold Medusa pendant from my friend, Busy.
What's one beauty trend you hope to see in 2020? And, opposite, are there any you'd like to leave behind in 2019?
At the risk of sounding like a cheeseball, I hope to continue to see more people embracing their beauty on their own terms. Of course, that comes with the observation of trends I don't particularly wish to participate in, but it makes the world a more interesting place!
Is there any one beauty item you just couldn't live without?
One?! I am by no means a simple person, especially in the realm of beauty, so this question is impossible for me to answer. Here's a tight edit, though: SPF, La Prairie Platinum Rare Cream, and Blistex Lip Medex.
Can you tell us a bit about The Chain and what you're trying to accomplish through it?
My close friend, Ruthie (Friedlander), and I met a couple of years ago after bonding over the shared experience of coping with and recovering from an eating disorder while working in fashion. We co-founded The Chain in 2017 as a peer-led support group intent on creating a safe place for people working in fashion, media, and entertainment to tell their stories and gain insight, as well as providing guidance to the style world at-large.
Style evolution and self discovery at times are very much correlated. How did you find a greater sense of self and what was that journey like for you?
I've always marched to the beat of my own drum, but I feel like I really started to come into my own when I moved to New York 8 years ago. Personally, I feel very at home here and living in this city has helped me embrace bits of myself that I'd previously felt insecure about. Style-wise, I've always been drawn to lots of black and neutral tones but over the past couple of years I've started investing in timeless pieces more and participating in trends and fast fashion much less. I'm constantly evolving, but I know who I am now.
Often times, jewelry has been marketed for decades as a gift you receive from someone else. We're changing that narrative. Today's jewelry is a gift to oneself, a celebration, be it for the everyday feats we as women conquer, or the milestone moments. How do you take time to celebrate yourself?
I like to look at old journals from time to time and see that I've accomplished a lot of what I set out to do years ago. It's easy to get jaded or caught up in the rat race of things, but it's important to me to acknowledge how far I've come and have those quiet moments of gratitude.
Hibernation season is officially upon us—what are some of your favorite lazy Sunday self care routines?
A frothy almond cappuccino, several pairs of socks, solid mood lighting, a face mask, and Full House reruns.