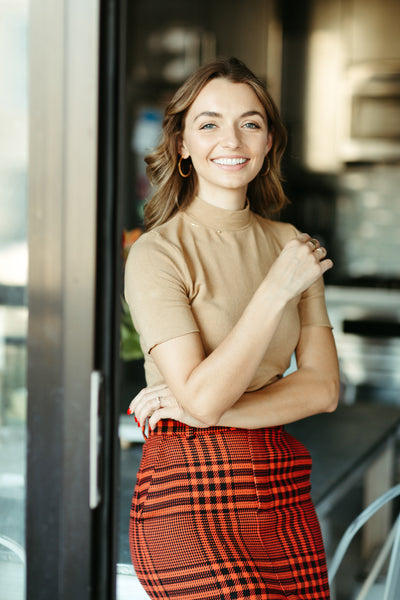 Jasmine Garnsworthy is a digital communications specialist and former style and beauty editor at POPSUGAR, StyleCaster, and Mamamia. She has knack for managing digital properties that reach millions of people, working to grow and engage audiences for high-profile publishers and brands. The New Yorker has worked with brands such as Shopbop, Facebook, Revlon, Bastide, Bupa, Farfetch, and Bumble. 

Jasmine currently lives in Brooklyn with her partner and two thriving house plants. When she's not working, Jasmine can be found reading, waiting in outrageously long queues for brunch, and lecturing her friends on the virtues of various clean skincare ingredients. Let's get to know this digital guru even more. 
Hi Jasmine! Can you tell us briefly about yourself?

Hi! I'm an Australian living in New York City with my husband and two thriving houseplants. Professionally, I advise businesses and professionals on how best to use the Internet to share their story. I'm also the founder of content-driven beauty brand, The Buff. You can find me on Instagram @jasminegarnsworthy.

What role does jewelry play in your everyday?

Jewelry helps me to align with the version of myself I need to be on any given day. When I know I have a really long day at the office ahead, I find bright accessories can feel energy-draining and I like to just wear a simple, gold wedding band. On others, I find that bolder jewelry amplifies an already high-energy mood.

Do you wear any staple jewelry pieces that have symbolic meaning to you?

I have a few very special rings that I received for my engagement and wedding from my fiancé and relatives. I rotate these around depending on my mood and outfit, and often fall back on a simple, gold band on my wedding finger. I also have a gold charm bracelet that is one of the most sentimental items that I own. I grew up in Papua New Guinea and as a child, each year my dad would take my sister and I, on our birthday, to choose a gold charm for our bracelet to represent something that happened in our lives in PNG that year. It is very special.

What motivated you to start your own clean beauty brand, The Buff?

I had been writing about fashion and beauty for a number of years as an editor at POPSUGAR in Australia and then StyleCaster in New York, and was becoming more concerned about the lack of transparency in the skincare industry, and particularly the confusion many of my friends and readers expressed over the ingredients in their products. At the same time, soon after moving to NYC, my skin also began breaking out quite seriously and it really impacted how I experienced the world. I tried multiple dermatologist-recommended products for months, but the breakouts just got worse. Eventually, I began to explore a more natural route that considered my diet and a more simplified skincare routine that included jojoba oil.My acne, scars, redness, and dryness started to improve. I decided to create a clean beauty brand that is completely transparent about the ingredients in each product, and the reason why they're included in the formula, specific to each customer's skin. Each customer takes an online quiz and we are able to direct them to the appropriate beauty oil blend for their skin, and clearly explain why these ingredients will be effective for their personal needs.
What is your beauty routine like?

I spend more time on skincare in the evening. I double cleanse every night using a simple jojoba oil blend followed by a gel SkinCeuticals cleanser. Every few days I also use glycolic acid wipes right after cleansing, which keeps my skin bright and glowy. Next, I rotate through a few different serums, but I always love SkinCeuticals CE Ferulic Acid in the morning and a hyaluronic acid serum in the evening. At night, I follow the serum with moisturizer - right now I'm using Go-To Skincare - and a customized beauty oil from The Buff.

What have you learned most about yourself since starting your own business?

Despite the fact I have learned so much through this process, I'm also much more aware that I don't know anywhere near as much as I thought I did about work, life, and entrepreneurship.

Do you have any upcoming projects you're excited about?

Fairwell! Have you met her? This is a social impact project I've been working on to raise money for the education of girls in vulnerable communities.

Style evolution and self discovery at times are very much correlated. How did you find a greater sense of self and what was that journey like for you?

The way I present myself externally is becoming much more closely linked with how I feel internally. I wear the colors that make me feel joyful, calm, energized, or powerful depending on what I need to reach for on any given morning. When it comes to style, I'm much more inwardly focused and less externally motivated by trends, and I think that's a fairly good metaphor for the personal and professional development I've been experiencing over the past few years.


Often times, jewelry has been marketed for decades as a gift you receive from someone else. We're changing that narrative. Today's jewelry is a gift to oneself, a celebration, be it for the everyday feats we as women conquer, or the milestone moments. How do you take time to celebrate yourself?

Hot bath, red wine, and a compelling book.

Which women have inspired you most in both career and life?

Different women have inspired various parts of my life. I love listening to podcasts like No Filter and Girlboss to learn how women navigate their own challenges and opportunities, and to use their experiences as a template to better my own life.

How do you hope to inspire other women?

I hope that by being open about the tactical steps I take to build my beauty business and deliver outcomes for my digital clients, others can take away actionable advice and apply it to reach their own professional goals. I also try to be reasonably open about elements of my personal life, while still protecting the relationships closest to me, and hope that women can take my own experiences, learn from them, build on them, and that it helps others navigate their own lives.