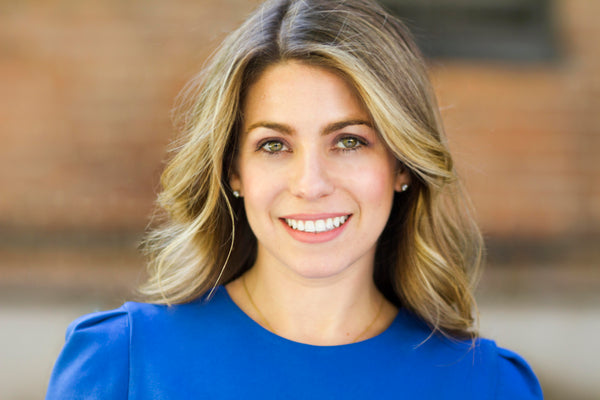 It's a small scene in Tarantino's classic "Pulp Fiction," but that doesn't make it any less iconic. Vincent Vega and Jules Winnfield find themselves in a tight spot and call the ultimate fixer, The Wolf, who proceeds to take care of all their mistakes with remarkable efficiency and above all, style. Much like the characters, the audience can do nothing but applaud the Wolf's unparalleled ability and confidence. 
The same is true for Jessica Davidoff.
As founder and CEO of STATE Bags and New York City-based Admittedly, an education technology startup that provides free online tools to help students find and apply their college ideals, Jessica is a no-nonsense problem solver. Much like Harvey Keitel's memorable turn as The Wolf, Jessica tackles a host of pressing issues with a level-head and enviable sophistication. Let's get to know her even more.
Name: Jessica Davidoff
Title: CEO at STATE Bags
Title you would give yourself: The Wolf - you'll get the reference if you've seen Pulp Fiction, and if you haven't you should watch it ASAP
What did you want to be growing up? A heart surgeon.
What do you still want to be growing up? A problem solver.
What gets you out of bed in the morning? My eagerness to see my son's smile.
What gets you into bed at night? My husband forcing me to get off the couch or away from my desk.
Where is your favorite place? Montauk, NY. 
What makes you laugh? Watching my son get tickled and Benito Skinner (@bennydrama7 on IG).
What's on your bucket list? I'd love to take my sons on a safari and would also love to take a dive trip to the Maldives with my husband.
Favorite book? The Great Gatsby.
Favorite piece of art? I'm art obsessed - I always say if I ever "retired" I'd open an art gallery and focus on emerging artists. My favorite piece at the moment is Wild Love by a French artist Noe-Two and it's hanging above my sons crib.
Who is someone you look up to and why? I think Reese Witherspoon is an absolute hero. She truly lives her life on her own terms and owns who she is and the choices she's made - marrying and having kids really young, bouncing back from a divorce, reinventing herself after a downturn in her career as a powerhouse actress, producer, and entrepreneur. AND she exudes positivity in everything she does. 
What does balance mean to you? Whenever I hear the word balance, I think about bonsai trees because they symbolize balance and harmony and yet are far from perfect and equilateral. I love the reminder that balance does not have to be equal and that life ebbs and flows to create a perfectly imperfect balance.
What's the best advice you've ever received? Chris Sacca said, "Your inbox is a to-do list in which anyone in the world can add an action item. Get back to your own to-do list." It resonates with me SO much because for a while I felt like I was getting mired in emails and never got the chance to focus on the big picture of running my companies, and thinking about the life I want to live on a daily basis.
What're your summer escapes? I've been coming to Montauk since 2001 and spend at least a full month out there every July or August. It's such a magical place and really allows me to slow down while reigniting my creative juices.

What is your favorite Aurate piece? Diamond Infinity Pendant. I love how it's modern, but has a touch of art deco to it. Since I'm currently a family of three, I love that it has three very different rings to remind me of my son, my husband, and myself.