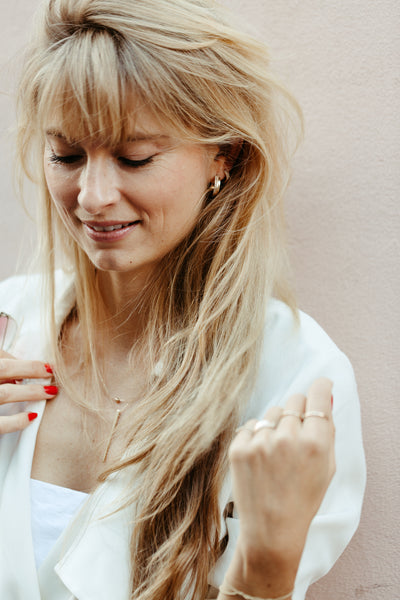 Natalie is a bicoastal stylist and journalist with insatiable wanderlust, also known as a "hippie in heels" for her commitment to the greater good. She spends her days dressing men and women all over the globe, while creating content for a variety of media outlets including Bon Appetit, Harper's Bazaar, W Magazine, MindBodyGreen, Metro NY, StyleCaster, BuzzFeed, Cosmopolitan, and more. 
We sat with the style guru to chat about her personal preferences and journey to becoming the woman of taste she is today. Let's start! 
Hi Natalie! Can you tell us briefly about yourself?
Sure! I'm a personal stylist and journalist, so I spend my days working with private clients to build beautiful wardrobes for everyday living. I also write for various publications - focusing on all things stylish and sustainable: so everything from travel to toxin free beauty and sustainable style.

What role does jewelry play in your everyday?
I adore jewelry as a method of self expression - like the cherry on top of any outfit! I have my basic dainty pieces that stay on most of the time, but I switch out statement pieces regularly.

Do you wear any staple jewelry pieces that have symbolic meaning to you?
I wear a lot of my mom's jewelry, including an enamel bracelet that was given to her when she immigrated from Finland. She came by ship and modeled in a "fashion show" of hand knit sweaters. The reward was this tiny bracelet that I still have.

Can you tell us how you got your start in personal styling?
I had been working at various fashion brands (Diane von Furstenberg, Kiki de Montparnasse etc) when I decided to leave fashion PR in search of something more fulfilling. I discovered personal styling by accident as a "stopgap" between jobs, and soon found it to be exactly what I was seeking because it's both independent and intensely, well... personal.

What do you love most about what you do?
Fashion is a tool for building self confidence. Working with private clients allows me to help people look and feel their best so that they can tackle the rest of their day without worrying about their image. I love how intimate I can be with my clients, each one has an individual story and goal. We develop relationships and I feel so satisfied when they tell me what a difference I've made!

Do you have any pieces in your closet that have sentimental value or a story behind it that you're attached to?
I'm not big on holding onto clothing for sentimental reasons, unless you're still wearing it. Keeping anything extra in your wardrobe only blocks you from seeing what's really wearable and making it harder to get dressed ! Take a Polaroid if you want to remember a special moment in an outfit. That said, there is an Escada sweater that my mom bought in Paris in her 20s that will always be special. Worried about having to pay taxes on it, she and her sister cut the tags out of everything they bought on the trip - which just makes the story that much better. I DO still wear it though, so I'm abiding by my own rule! :-)

Who, past or present, has inspired your personal style?
Jane Birkin, Brigitte Bardot... all the bang girls. I love effortless, gamine style. But I also adore Saint Laurent from the Yves years- fierce and clean.

Style evolution and self discovery at times are very much correlated. How did you find a greater sense of self and what was that journey like for you? Totally! I've had moments of newfound freedom after a breakup or job changes where I dove headfirst into bohemian style. When I cut bangs in 2012 I felt like I recognized myself in the mirror for the first time. Redefining yourself through both outward and inward transformation can be immensely healing.

Often times, jewelry has been marketed for decades as a gift you receive from someone else. We're changing that narrative. Today's jewelry is a gift to oneself, a celebration, be it for the everyday feats we as women conquer, or the milestone moments. How do you take time to celebrate yourself?
Well, for starters I've bought almost all of my own jewelry! A new piercing is also a great way to mark a milestone or transition. Time is the greatest gift for me to give myself - time to get a massage, read a book with a nice glass of red, or just stay in bed all Sunday. I do these things often because when I work hard, those little moments keep me motivated.

There's something so romantic yet mystifying about vintage finds. What is it like to discover those rare gems and breathe new life into them?
I LOVE vintage finds because they're one of a kind. I have always loved combing vintage shops, thrift stores, flea markets, you name it. The quality of older items is often better than what's out there today, and of course vintage is much more sustainable!