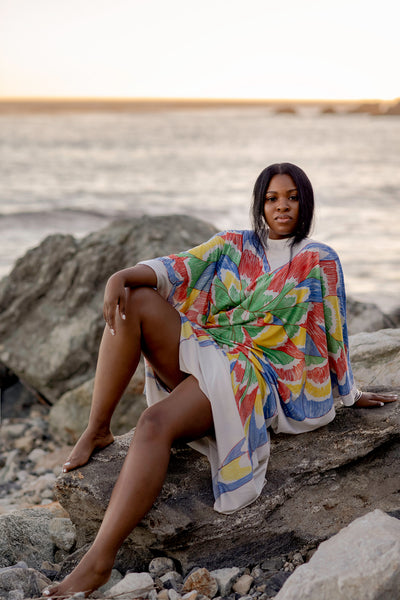 Bold. Trailblazing. Unapologetic. That's the best way to describe this force of a woman. Stevona Elem-Rogers embodies the essence of the Aurate woman of substance. She is a womanist writer, educator, and orator (or as we prefer, AUrator) with a passion for innovative examination and advocacy of Black culture and womanhood. She received her B.A. from The University of Alabama in English and African-American Studies, and in 2007, she began her teaching journey by way of Teach For America - New Orleans and received her Master of Arts in Teaching from Louisiana College, with a concentration in Culturally Responsive Teaching, a pedagogical theory created and advanced by Black women scholars.
In spring 2016, education became the foundation of Black Women Are For Grown Ups, a digital campaign she launched alongside an ever popular t-shirts to celebrate — and heighten the visibility of — the full, complex narratives of Black women. This idea continues to inspire tangible projects and collaborations exclusively for Black women under the platform Project BWAFGU.
Whether it's curating Black women centered spaces or getting sticky palms for a raw, guerrilla art campaign, the idea behind her work is that it is artistic, intellectual, and accessible for all Black women. This is her life's work, and it's just the beginning. 
Name: Stevona Elem-Rogers
Title: Womanist writer and educator
What did you want to be growing up? At 13 I was introduced to Toni Morrison and what stuck with me was she taught at Howard University and became a writer. I thought that sounded like a lovely life, to teach and write.
What do you still want to be when you grow up? I look forward to owning and curating a gorgeous reading room dedicated exclusively to Black women writers. Guests will be able to purchase their works, fresh flowers and a bomb glass of wine.
What gets you out of bed in the morning? My ancestors! Also, I made a morning playlist on Spotify called Shine and it bangs.
What gets you into bed at night? I'm a night owl. At 1:00 a.m. I'm likely up reading about Afrofuturism in The Wiz. Ha! My mind is always on; only exhaustion can get me in bed.
Where is your favorite place? Dancing directly behind the brass band at a New Orleans second line.
What makes you laugh? Storytelling with my homegirls.
What's on your bucket list? Venice Simplon-Orient-Express.
Favorite piece of book? For colored girls who have considered suicide/when the rainbow is enuf by Ntozake Shange.
Favorite piece of art? I will forever love the installation Out of One's Skin by Armina Mussa.
Favorite past time? Reading at sunset.
How do you stay motivated? I watch Nikky Finney's 2011 National Book Award acceptance speech.
What is the best advice you've received? Whatever good there is to get, get it, and feel good.
Which women have inspired you most in both your career and life? My grandmother, Lois Elem. She raised six children on her own during Jim Crow in Birmingham, Alabama while also working as a full-time nurse.
What does being a female in your industry mean to you? Being a Black woman writer is sacred work. I write in the tradition of Nikki Giovanni, Alice Walker, and Sonia Sanchez who taught me that our lives are worthy of high regard and record.
How do you hope to be an inspiration to others? I hope to inspire vulnerability. I created the 'Black Women are for Grown Ups' project in honor of Dr. Maya Angelou who openly used her past as a sex worker for collective healing and hope. She defined what it meant to hold authority over life experiences; this work exists to affirm Black women who are committed to walking in our full truth and require the same of those with whom we interact.
What's your favorite AUrate piece? I'm a proud Aquarian and obsessed with the amethyst Birthstone Necklace.