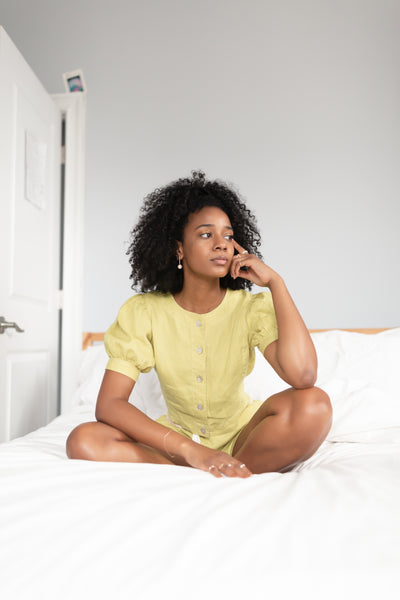 So What Do You Do Again? Naomi Elizée can and does answer that in her podcast which focuses on highlighting the careers of trailblazing women of color in the fashion industry. The podcast also serves as a tool to educate others aspiring to get their foot in the door.

Having started as a freelance fashion assistant at Vogue, she has since worked her way up to the position of Associate Market Editor. She currently handles the French, Swim and Lingerie Markets at Vogue. Outside of her professional career at Vogue, the Brooklyn native freelances as a model working with brands such as Nike, Uniqlo, Milk Makeup and Marvel.
Hi Naomi! Can you tell us a little about yourself? Yes! I'm from South Florida but have lived in NYC for three years now (Woot! Woot!). I am the Associate Market Editor at Vogue, but when I am not at my full time job I work on my podcast, "So...What Do You Do Again?" !
What role does jewelry play in your everyday? A major role! I'm constantly wearing jewelry to express myself and to feel good!
Do you wear any staple jewelry pieces that have symbolic meaning to you? A lot of the jewelry I own has been passed down to me through many generations. Wearing my engraved l "Love" ring that was once my sisters allows me to feel closer to home… Every time I look down at it, I am reminded that my family back home are rooting for me and to keep going in this crazy NYC life.
Were you always interested in fashion? Yes, I used to drive my mother insane with wanting to pick out my own outfits!! I was young so the outfits tended to be mismatched, but I loved it because it was my vision!! This was truly my first fashion memory of picking out my own clothes to wear with no trends in mind...just fully me and my early styling ideas.
Can we talk about diversity in fashion for a moment? In your experience thus far within the fashion industry-from interning at Seventeen magazine and Saks Fifth Avenue, to working at Vogue—have you witnessed a shift within the industry? I've witnessed a shift of awareness, but not necessarily much change. Yes, companies and publications are aware of the lack of diversity and inclusion within the fashion landscape, but they recognize this issue more on the surface level. For some companies, having a Diversity and Inclusion Director is more for appearances than for actual change. I hope that in the next 5 years, we see more companies taking strides towards implementing the practices they publicly preach for. Diversity and inclusion are not a trend and there is way more work to be done.

In what ways do you feel fashion can continue to be more inclusive and representative? There are so many ways we can be more inclusive and representative. The major one, which I feel would have the most impact, is to hire more POC within the corporate and executive landscape. We need more diverse decision makers in the highest levels of the fashion industry in order to maintain change and not let the issue of diversity fade off like a trend. At the end of the day, you have to hire POC to bring "diversity" to your company, but, if they aren't in positions of power and important decision making, then how much can they actually change? How much input do they truly have? Diversity in fashion tends to be very superficial and it's imperative that the people behind the scenes are as diverse as the ones in the public eye.
Aside from Associate Market Editor at Vogue, you are Founder of the podcast, "So...What do you do again?", in which you've essentially created a platform dedicated to highlighting the career paths of WOC in the fashion industry. What motivated you to create this? Creating SWDYDA has truly been my proudest achievement so far because I am able to use my resources and access in the fashion industry to uplift and teach others aspiring to break into the industry. I was motivated to create this platform in an effort to level the playing field and give insider knowledge to women of color who are looking for guidance and just need that extra push to get to where they need to be.
Style evolution and self discovery can be very much correlated. How did you find a greater sense of self and what was that journey like for you? I'm still on this journey, but the journey has been fun nonetheless. It's always interesting to watch yourself evolve and start to pinpoint your style taste. Personally, I find a greater sense of self through my experiences, both good and bad. There is a purpose to everything that happens to you, and it's important to look at each experience through the lenses of optimism.
Often times, jewelry has been marketed for decades as a gift you receive from someone else. We're changing that narrative. Today's jewelry is a gift to oneself, a celebration, be it for the everyday feats we as women conquer, or the milestone moments. How do you take time to celebrate yourself?
 I celebrate myself by treating myself! I love taking a day off to get a facial, mani pedi, meditating, read a book, watch a movie, etc.. It's all about enjoying time alone with yourself and getting back in tune to better your mental health.
Which women have inspired you most in both career and life? So many! My mother and my two sisters for sure...they are my rocks, my biggest support systems! Outside of my family, another women who has been a big influence on my career has been Rajni Jacques, an incredible woman who is so selfless and talented in every aspect of her work.

**Naomi wears Stackable Ring, X Ring with White Diamonds, and Bold Diamond Stacker Ring.