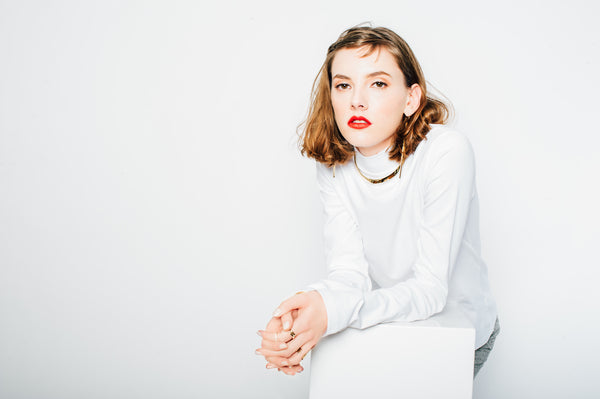 Forget the tree, this holiday we're the ones shining bright in burnished ornaments. It really doesn't matter if you've been a little naughty this year, because with touches of glittering gold, you'll look more than just 'nice', you'll be the star of the show.
Keep your holiday outfit basic and in neutral tones: a snow-white cashmere turtleneck to keep you snug; melange trousers in gray, the next best thing to wearing your pajamas all day (though we wouldn't be opposed to wearing next Spring's hottest trend either). Holiday dressing is all about cozy chic, going from the dinner table to the fireplace, from champagne toasts to eggnog night caps. So create a look that channels understated elegance, and keep the focus on your gold.
Complement a high neckline with the Collar Necklace, a refined piece that derives its beauty from its strength. Add a hint of drama with the Long Bar Earring, a special occasion does call for a special piece after all. Like to throw convention to the wind? Wear but one earring, and let everyone know you're the kind of person that breaks with tradition.
And don't let the presents have all the fun - stack your hands full of decoration, they will be on display when untying all those ribbons! Start with the luminescent Quadripearl Ring, then mix and match for ultimate embellishment. Add the bold Tribar Cuff, and bring it all together with the timeless yet contemporary Crossover Ring. The final touch? A Mini Circle Ring. Try it in a different shade of gold - who says we have to wait for the new year to start something new?
Wearing your favorite AUrate pieces during the holidays? Tag us on Instagram at @auratenewyork, and add #auratenewyork #realgold #realgiving