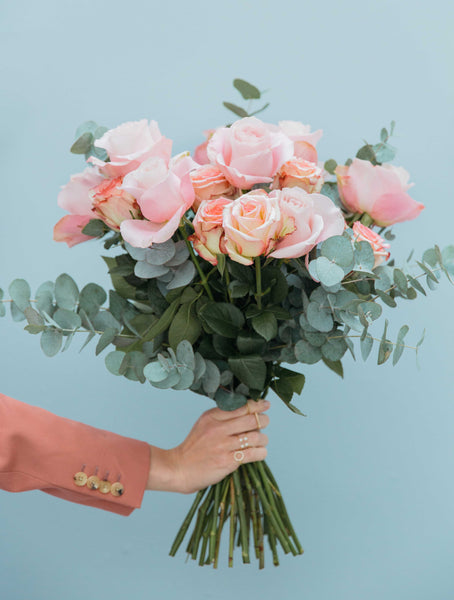 Roses and Gold this Mother's Day
Show your mom that you really do appreciate all the times she drove you to soccer practice, finished that science project you couldn't quite figure out, did endless loads of your laundry, supported you during your awkward teen years, or bought you the Barbie dream house you just had to have (with every accessory available).
Our mothers have all shown us that they are willing to go the extra mile for us, so this year for Mother's Day, let's go the extra mile for them. We are thrilled to share with you a limited amount of gorgeous Ode à la Rose bouquets of pink roses and cool, green eucalyptus, free for each customer who makes a purchase of $250 or more, (we suggest you first take a look at our Mama Edition for a meaningful and sentimental piece your mom will adore).
These enchanting bouquets, specially designed by Sophie, are made up of twelve exquisite Roselyn roses, two stems of elegant and subtle light pink spray roses, three stems of cool and refreshing baby blue eucalyptus, and three stems of revitalizing eucalyptus silver dollar.
Shades of pink represent femininity, strength, and the powerful, yet soft and nurturing love of a mother. Green eucalyptus gives this maternal warmth a bit of an edge and exudes the calm and cool temperament a mother must maintain, while still remaining sharp and energized.
Your mom's love for you is ever blossoming, so show her yours is too with glittering AUrate gold and a captivating bouquet of roses as a sweet and pretty plus.