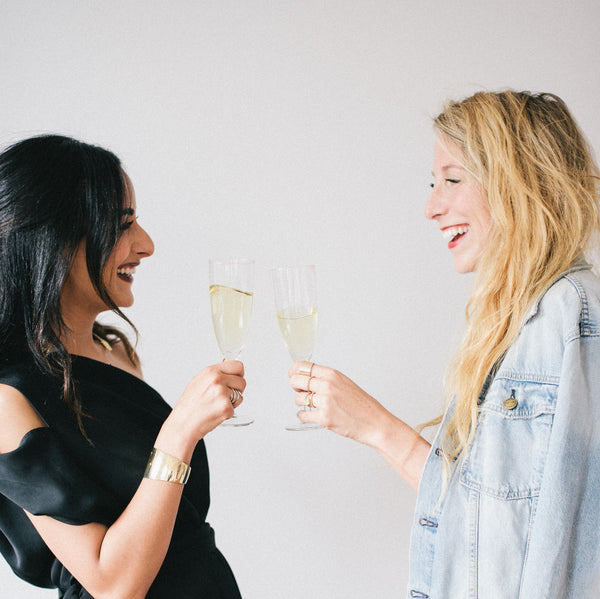 Happy New Year, and welcome to 2017! We trust you had a wonderful finish to what has been a big year for many, including us. As we said goodbye to 2016 and took the opportunity to reflect, we couldn't help but feel proud of how far AUrate has come. And when we thought about all the exciting developments on the agenda for 2017, well, it certainly was cause for a celebration!
So what were our highlights for 2016? Well, we saw AUrate grow four times bigger than the previous year and gave thousands of books to children in need thanks to our 'A Book For Your Look' program. We loved interacting with customers at every opportunity - whether meeting you in store or receiving your feedback online - and using these interactions to further improve our product, range, and offerings, such as expanding our color and size customization options. We also started this very blog to give an insider's view to AUrate and our lifestyle, and perhaps the greatest highlight of all, we continued to keep the most important people happy - you! In fact, on a recent customer satisfaction survey, nine out of ten of you said you love us, and we couldn't be happier! Of course, we couldn't have done it without your support, so we have to take this opportunity to thank each and every one of you!
With these achievements in mind, we are so excited to see what 2017 will bring, and it looks set to be even bigger than last year. We look forward to opening more bricks-and-mortar stores and expanding our presence to the US West Coast (watch this space for where and when!). We are also continuing to develop incredible new designs for our collection. But most importantly of all, we are thrilled to continue to stay true to the essence of the AUrate brand: to offer the highest-quality, fine jewelry at a fair price; to create our product in NYC and maintain our highest standards of ethical and sustainable practices; to empower our customers and community to give back, including through our 'A Book For Your Look program'; and to always put our customer first.
Which bring us to our non-resolutions: we realized that everything we want to achieve in 2017 is not only a continuation of our achievements from the last year, but a continuation of the very core of our brand. So rather than 'resolving' to do things better, we are in actual fact reaffirming our commitments to our products, our brand, and to you. So as we forge ahead in this new year, we invite you to share in our approach: forget making the usual, oft-abandoned resolutions and focus instead on furthering the achievements you made in the past year, all while staying true to who you are. We are certain 2017 is going to be an outstanding year, and we can't wait to share it with all of you.
Bouchra wears Midi Gold Bar Earring, Arc Cuff, Diamond Snake Ring and Flower Necklace Open. Sophie wears Geometric Square Ring, Quadricolor Ring with White Diamonds, and Asymmetric Pearl Ear Jacket.