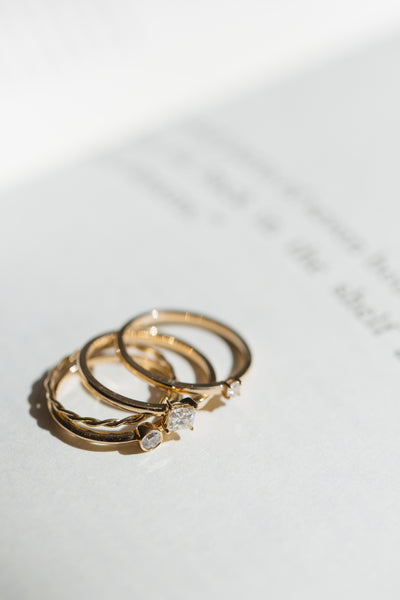 Stand out in a big way with these small beauties.
Our four new rings demand attention in a subtle way. We can't wait to see you sparkle.
The Diamond Stacker Ring, $240
Why settle for one brilliant diamond when you can have three? Our Diamond Stacker Ring is a sleek 14-karat gold band with a line of three glittering round diamonds seamlessly embedded inside. This everyday ring is a shining new addition to your look. Simple yet gorgeous, the Diamond Stacker Ring will radiate with you wherever you go.
The Large Diamond Solitaire Ring, $1,200
With exquisitely sourced 14 karat gold and a single clear-cut, square diamond that extends boldly past the boundaries of the band, this ring will make you feel like the princess you've always wanted to be. The Large Diamond Solitaire Ring manifests a classic and timeless aesthetic that will never go out of style.
The Medium Diamond Solitaire Ring, $400
If you're infatuated with the princess style, but are a bit more simplistic and subtle, the Medium Diamond Solitaire Ring was made for you. This ring is still sure to turn heads and add a certain sparkle to your look, but on a smaller, everyday scale. With a pure 14-karat gold band with one small diamond that beams brightly from the center, the Medium Diamond Solitaire Ring will light up any look.
The Floating Diamond Ring, $320
Some rules are meant to be broken. We played around with a classic look to bring you something innovative, fresh, and modern. Live in the moment with our new Floating Diamond Ring. We kept all the basic elements the same – our gold is still pure 14 karat and our diamonds as clear and precisely cut as ever – we just rearranged things a bit. Instead of the diamond being embedded in the band, it sits regally on the top of the band, making itself known.
We hope you are excited as we are about this new collection of diamond rings. Go ahead and get your shine on.