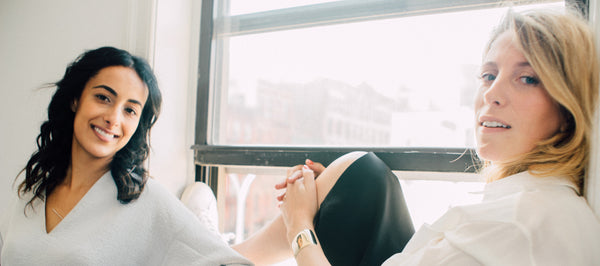 So, we finally started a blog! We are Bouchra Ezzahraoui and Sophie Kahn, the founders of AUrate New York. As best friends and business partners, we feel extraordinarily fortunate that -every day- we get to do the work we were meant to do and give back in a real way. This company is truly a labor of love. And this blog is our invitation to you. Come behind the scenes and get to know the people, the stories and the mission behind our brand. You'll see posts that fall into four categories: 
The Gold
AU is the chemical element of atomic number 79. Gold. It's at the beginning of our company's name because it is the essence of our brand. We design our gold jewelry to feel elemental. To reflect and refine your sense of style. To become even more meaningful over time, until it feels like a part of you. This precious metal has timeless, inherent value, a quality we keep alive in our designs. Our commitment to the best quality means we are devoted to sourcing the finest raw materials, and we adhere scrupulously to the highest ethical guidelines, every single step of the way. Our prices are about half of what you'd expect to pay for fine jewelry of this quality. How? No middlemen means (much!) lower markup. We can't wait to introduce you to some of our sources and crafts people, and share some very personal stories about our design inspirations.
The Giving
Rate stands for a "rate of return" on your purchase. What do we mean here? For every piece of jewelry purchased we give a book to a child in need - in other words, your purchase extends far beyond you. We believe this concrete model of giving back adds value to our jewelry. It feels good to wear something beautiful. It feels even better to know that you've given an incredible gift. Education is the cause dearest to our hearts and reading means so much: literacy is the best measure of educations's reach and books - stories - develop imagination, open minds to the world and plant dreams. Partnering with Mastery Charter means we personally get to deliver books to schools and meet amazing kids who love to read. We'll introduce you to some of these students, and to some other companies that contribute to local communities and the world at large, in fresh, thoughtful ways.
The City
New York City is where we handcraft our jewelry. To live and work here is to be immersed in creative energy. Everything inspires us. It's exciting to watch trends bubble up from street style to fashion week runways. And it's amazing to have access to so much of the world's great art, music and food (esp food!) on a daily basis. But, as we share our latest obsessions with you here, you'll see that what we love best - what we live for - is discovering that new, independent boutique around the corner, or a tiny, hidden cafe with window boxes full of flowers. New York really is a city of neighborhoods and you'll see that many of our favorite (and chicest) finds are our neighbors, at home and at AUrate.
The Orators
AUrate is pronounced OR-ate. It's the art of telling a story. We want to introduce you to the team at AUrate, The Oraters who make up what we do on a daily basis. The ones who live and breathe our story. While you get to know us here you'll also meet some of our other Orators, people we admire for their singular style and/or spirits. You can start here if you want to know more about us and Our Story. 

So, welcome! You can probably tell we're excited about this. And we want to hear from you. Think there's someone we'd like to know? Want to tell us about the last great book you read? Get in touch, pretty please! And subscribe below to get updates in your inbox. Don't miss a thing!