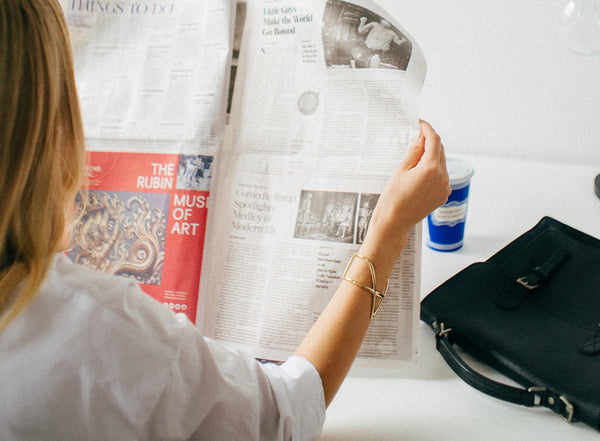 As a powerful woman once said, "Who run the world? Girls!". Okay, so maybe it's been said (or sung) more than once, but that doesn't diminish the power of the statement. And as a brand founded by two passionate female entrepreneurs, empowering yourself to be the best that you can be - no matter your gender - is an ideal we hold close to our hearts.
Of course, being our 'best selves' does not mean constant perfection. Sure, we strive for it and we hold the quality of our product to the highest of standards. But on a personal level, knowing who we are, embracing our flaws, and leveraging our unique personality in all that we do is our key to achieving success.
Which is why we design our jewelry the way we do: our aesthetic enables women to express their style in a way that is truly representative of who they are. And while workplace dress codes have relaxed over the years, not everybody has the luxury or flexibility to dress exactly as they want to. But that doesn't mean you should hide your personal style during your daily grind; you simply need to find smart, subtle ways to illustrate it.
Take our Icon Cuff and Icon Ring for example. Each piece works as perfectly with a crisp, white shirt as it does with a relaxed cotton tee. Keep it simple and sophisticated by wearing just the two, or add impact and a touch of daring by donning multiple pieces from the Icon Collection.  
See also our Midi Diamond Bar Earrings With White Diamonds. Subtle enough for the office, statement enough for after five, these sleek, lineal white diamonds add a hint of shimmer to achieve an elevated, chic look.
You could say our jewelry is much like the women who wear it: hard-working, versatile multi-taskers. And as multi-taskers, we love to take advantage of every spare minute, which is why our lunch breaks are fueled by power reads. Our current pick? Swing Time by Zadie Smith. This enthralling novel takes readers across London and Africa, highlighting the inequalities faced by two females whose friendship faltered long ago. Be sure to watch the clock with this one though, it's far too easy to be drawn in and forget approaching deadlines!
Are you wearing your favorite pieces of AUrate gold to work? We'd love to see the way you style your look! Tag us on Instagram @AUrateNewYork, or drop us a line any time.